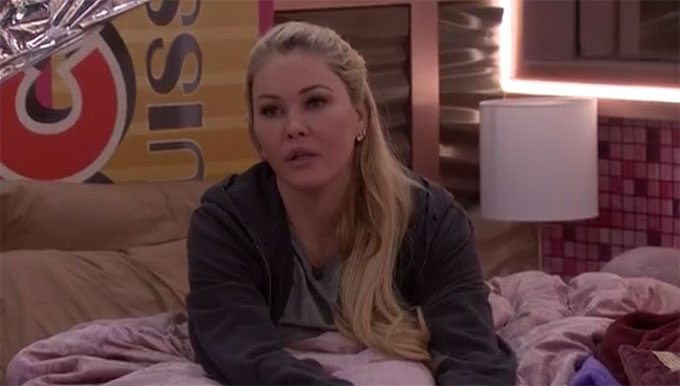 A lot went down in the Celebrity Big Brother house on Wednesday, but we didn't get to see much of it as the Feeds were down a large part of the day. There was a Veto draw, a Veto competition, and even a self-eviction!
Read on to find out who dropped out of the game, and what the plans for the Veto are – it really sounds like the Veto will be used this time.
If you've got the Live Feeds (Free Trial) then you can watch all of these moments with the Flashback feature to go back and watch those important conversations or funny scenes you may have missed.
Celebrity Big Brother 3 Live Feed Highlights – Wednesday, February 9, 2022:
9:25 AM BBT – Todd, Cynthia, and Todrick are all up talking in the kitchen.

10:15 AM BBT – The rest of the HGs are slowly waking up.

10:42 AM BBT – Shanna tells Carson she's going to talk to Miesha to see if she has any backdoor plans.

11:10 AM BBT – Feeds cut.

5:07 PM BBT – Feeds are back after a long break. Shanna won the Power of Veto.

5:10 PMBBT – Shanna tells Lamar that Miesha gave her permission to take Cynthia down, but she wants to take Carson off the block. She adds that she won't vote to evict Cynthia either. She says she would vote to evict Todd if he's the replacement.

5:12 PM BBT – Shanna tells Lamar she needs him to help her get Todd out of Miesha's grasp so he can vote with them if he's not the replacement nominee.

5:15 PM BBT – Shanna tells Lamar that Todd has called himself a soldier for Miesha.

5:20 PM BBT – Chris Kirkpatrick tells Carson that if Shanna uses the veto on him Miesha will put up Todd.

5:22 PM BBT – Carson mentions Shanna using the veto on Cynthia. Shanna and Kirkpatrick agree that Carson needs to come down. Then they can vote out Todd. Carson says he's down with that.

5:30 PM BBT – Shanna tells Cynthia that Kirkpatrick wants them all to flip the house on Miesha and Todrick.

5:35 PM BBT – Lamar said he was so annoyed because Kirkpatrick called Miesha coach. Shanna says he has to act like he's with her so that's why he called her coach.

5:55 PM BBT – Todrick tells Cynthia he doesn't see Shanna using the veto.

5:56 PM BBT – Todrick mentions something about Chris Kattan no longer being in the game. Cynthia backs it up by saying "he's out of the equation." Kattan has left the Celebrity Big Brother game.

5:57 PM BBT – Cynthia tells Lamar that Shanna thinks Todd is totally committed to Miesha. Lamar said he thinks so too. Lamar says that Miesha is clearly trying to set it up so that she and Todrick are the last two in the game, with Kirkpatrick getting third.

6:10 PM BBT – Cynthia asks Kirkpatrick if he will go back to Miesha and Todrick if they get power again. She tells him he's kind of getting the best of both worlds in this game (working both sides).

6:20 PM BBT – Shanna asks Lamar what he does if he wins the next HOH. He says he's putting up Miesha and Todrick.

6:28 PM BBT – Kirkpatrick tells Cynthia that he was playing the middle but now he has to draw the line and he picks her side of the house.

6:30 PM BBT – Shanna says losing Kattan was bad because they could really use his vote.

7:47 PM BBT – Shanna is expressing regret over the last eviction night when she didn't use the veto. She said she feels she also upset Kattan so much he left the game. Carson tells her that was not her fault.

7:56 PM BBT – Miesha tells Todd that Kirkpatrick is making her nervous. She is worried about what he will do in the future of the game.

8:00 PM BBT – Todd suggests to Miesha and Todrick they distance themselves because they're going to both be targets together if they keep making their allegiance so obvious.

8:21 PM BBT – Todrick and Miesha are rethinking their target this week. They wonder if they can get Shanna to use the veto on Carson (she plans to), and then get Kirkpatrick up on the block. They wonder if they can get Carson to then work with them.

8:26 PM BBT – Shanna and Kirkpatrick say that Todrick is just being flat-out mean to them now.

8:30 PM BBT – Shanna tells Kirkpatrick this next round is their one chance against Todrick but she'll need him (Chris), Lamar, and Carson working together for it.

8:32 PM BBT – Todrick and Miesha finally realize that they have pushed everyone else from their side. Todrick says this next HOH is really important. He says he felt that had so many people on their team but now it's just them. Miesha says for the first time in this game she feels like she keeps running into a brick wall.

8:38 PM BBT – Kirkpatrick is starting to realize that if Shanna saves Carson, he could go up. He tells Shanna she could save the two of them this week by not using the veto, but says Carson will go home. Shanna says surely Miesha would spare him this round because he has been loyal to her.

8:39 PM BBT – Shanna tells Kirkpatrick that she really needs Carson in this game.

8:40 PM BBT – Shanna and Kirkpatrick say they hope Kattan is doing better out of the game. They agree his departure messed things up, but they're more concerned about his well-being.

9:15 PM BBT – Todrick and Miesha are worrying about Shanna and Kirkpatrick hiding away and talking. Miesha thinks if it's Todd up on the Block against Carson then Kirkpatrick will vote out Carson for them. (Nope.) Miesha decides she'll confront Kirkpatrick about that scenario and see if he will agree to go along or not.

9:25 PM BBT – Miesha tells Todrick she'll talk with Kirkpatrick and if there seems to be hesitation about voting out Carson over Todd then she'll instead plan to put up Kirkpatrick and will want him gone instead.

9:40 PM BBT – Miesha asks Todrick who he wants to stay and who should go. Todrick says he'd rather see Carson stay but then would turn around and target him next week.

10:00 PM BBT – Todrick tells Cynthia that if Carson goes then he wants to work with her (C) to the end. He warns Cynthia that Shanna won't ride to the end.

11:15 PM BBT – Miesha asks Kirkpatrick if he'll vote out Carson over Todd. Kirkpatrick asks if that is the plan. Then shifts to saying he thinks Todrick is acting strange to him. Miesha suggests there is just a communication issue between the two of them. Kirkpatrick promises Miesha she has his support.

11:25 PM BBT – Miesha again pushes for Kirkpatrick to confirm that if she puts up Todd that he'll vote out Carson instead of Todd. Kirkpatrick dances around it. Miesha says she needs to hear confirmation from him. She says she'd be upset if she trusted him and then Todd went home. Kirkpatrick dodges again.

11:30 PM BBT – Miesha asks Kirkpatrick if he thinks Shanna will use the Veto. He admits she's discussing it. Kirkpatrick insists he is not as close with Shanna as Miesha is with Todrick. He puts it on Miesha that if she feels she needs to put him up then she can. Miesha says that would make her sad.

11:35 PM BBT – Carson and Cynthia worry that Kirkpatrick may actually be more loyal to Miesha over them.

11:40 PM BBT – Kirkpatrick goes back to talk with Cynthia, Shanna, and Carson. He feels like he's blowing up his own game and senses Miesha knows this is a turning point in the game.

12:10 AM BBT – Todrick warns Todd he (Todd) could be in danger this week if he ends up as a renom.

12:15 AM BBT – Cynthia lets Carson know that Todrick offered to work with her if Carson leaves. Cynthia continues to be nervous about Kirkpatrick's loyalty. She says she warned Todrick not to trust Kirkpatrick.

12:35 AM BBT – Todrick reports back to Miesha that if Kirkpatrick is up then he, Lamar, and Todd would vote him out.

1:00 AM BBT – HGs are getting ready for bed and lights are going out.
What a day in the Big Brother House! After starting out very slowly and having a long run of down Feeds we discovered a game-rattling Veto result, the departure of Chris Kattan, and now she moving and shaking on the renom plans as loyalty is being questioned. This could turn out to be quite the round of fun on Celebrity Big Brother 3!
You can watch all of these Big Brother events using the archives Flashback, the DVR-like feature of this year's Live Feeds which means it's always live, even when you missed it! Sign-up now to get the free trial to watch it all live & uncensored.


Gallery: Live Feeds Highlights
Download our Big Brother App, join us on Facebook & Twitter, and get our Email Updates for more!