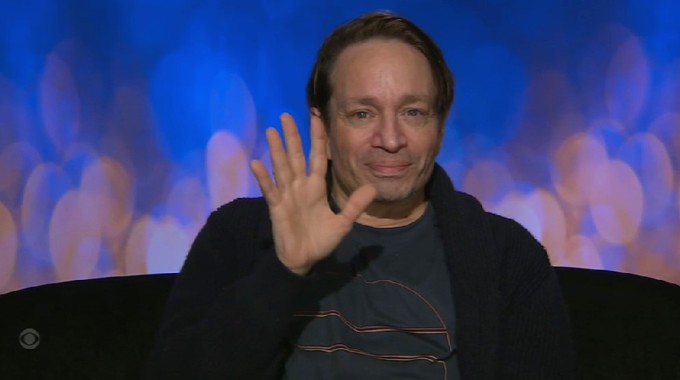 After a long afternoon of downtime on the Big Brother Feeds the HGs returned to our screens but this time without Chris Kattan. Listening in as the Houseguests discussed the latest, it sounds like Chris Kattan quit Celebrity Big Brother!
Flashback on your Live Feeds to 5:07 PM BBT as Feeds returned from the Veto competition (spoilers here on that win!). Houseguests soon start making comments and referencing Kattan like he isn't part of the game anymore. Credit to @RBBQ for picking up on this so quickly.
With the Veto likely coming into play the HGs were discussing who could go up as the renom. Kattan would be an obvious possibility, but wait, his name wasn't being mentioned:
twitter-tweet">

Has anyone seen Kattan since feeds came back? Shanna didn't mention him as a possible renom and Carson just said "oh he left his serum here" while in the clock room. #CBBUS3 #BBCeleb

— RealityBBQ #BBCeleb #CBBUS3 (@rbbq) February 10, 2022
Soon after that Meisha comments, "I wonder what the protocol is now like since we lost someone…" Shanna then wonders if that would affect a possible Double Eviction. And then there's Kattan's bed, that's been made up nice and neat which Todd suggests to Lamar he could move in and take.
twitter-tweet">

His bed has turned into a generic one. #CBBUS3 #BBCeleb pic.twitter.com/jMzsn0ti10

— RealityBBQ #BBCeleb #CBBUS3 (@rbbq) February 10, 2022
Then the nail in the suspicions-coffin is Todrick telling Cynthia that he wasn't as "stressed when Kattan was still here" because he was cannon fodder as someone that could go home before them, but "now that's thrown a huge curveball in the game."
CBS has NOT confirmed Chris Kattan's departure which makes this still semi-rumor, but it seems pretty obvious that he is gone and isn't coming back. And while Kattan may not have been playing a central role in the game, he was a fun Houseguest and will be missed. Whatever his reason for needing to leave, I hope he's doing alright.
Update: CBS confirmed Kattan's departure without giving any specific reason. Sounds like Chris may have been in physical discomfort and was ready to leave. He left the HGs a very nice video message before he left. Everyone was very supportive and understanding.
What do you think of the news? Surprised that Kattan may be gone after his request just a few days ago to be sent home? What do you think that could mean for the rest of the season or at least the next few moves on Celebrity Big Brother 3?
Updates: CBS is saying they'll provide details on the situation in Friday's episode. Meanwhile, Kattan is out and already tweeting again.
Maybe if Grodner sets out some cake tonight Kattan will come back? #CBBUS3 #BBceleb pic.twitter.com/sWc9h5AKuj

— Big Brother Network (@bigbrothernet) February 10, 2022