We knew the Celebrity Big Brother houseguests were going to have to play hard and fast, but I don't think we expected it to be THIS hard and THIS fast. Between Todrick's countless alliances and Miesha's Week 1 HOH antics that would make Frenchie's head spin, we've got a lot to digest after just two days.
Thursday night's episode  picks up right after Miesha won the Head of Household competition. She lets us know that she is going to set up her game this week and starts thinking about an alliance. She has a plan to work with the athletes, particularly Todrick and Lamar … she even has a final 2 offer to Todrick. 
But then Chris Kirkpatrick asks Todrick to work with him. THEN Mirai and Teddi also ask him for an alliance. This is on top of the alliance Todrick fell into with Carson, Shanna and Cynthia. 
So it's definitely raining alliances for Todrick. 
And then Mirai decides to add Cynthia in, and when she learns there was already an alliance, she kind of merged the two alliances into one. So that alliance, I think is Mirai, Todrick, Cynthia, Shanna and Carson. And they even decide to name the alliance. They go with Formation. 
Speaking of alliances, Miesha decides to grow her alliance by adding Kirkpatrick. She wants some help on who to put up this week. After a discussion with Kirpatrick and Todrick, Miesha thinks Teddi would be a good target this week with either Kattan or Todd as the other nominee.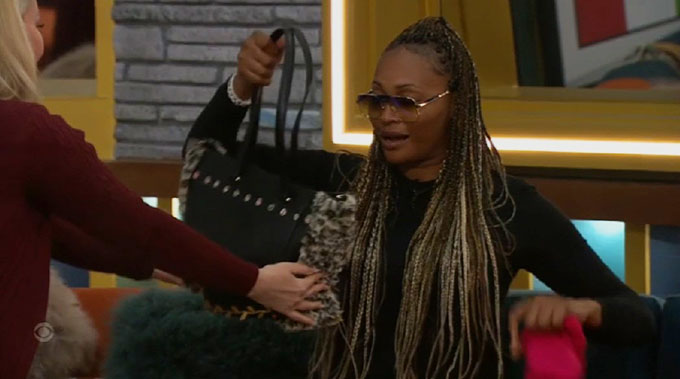 But will the Gala Gift change her plans? Let's find out. The HGs are told the person who possesses the gift will be untouchable this week. So there's a hat and the person who gets the hat last gets to keep it. So Miesha has to hand the hat off first. And that person definitely cannot keep the hat. It's basically a game of hot potato or White Elephant. You decide.  
So Miesha decides to give the hat to Kirkpatrick since he's in on the plan. He passes it to Kattan (and not Teddi — oops). Kattan then gives it to Todd. Then Todd gives it to Teddi (and Miesha is happy about that). Teddi gives it to Lamar. And he passes it to Carson. And then Carson gives it to Todrick. He gives it to Mirai. And she gives it to Shanna so Cynthia is safe this week.
But there's more to this. Miesha reads the card and it says that the curse could mean someone not nominated could still go home. No on knows exactly what that means. 
And since Miesha isn't sure what the curse means, she decides to pull Mirai in to their alliance. She lets her know that Teddi would be the target with Todd and Kattan as pawns. But then she pulls out that "would you be a pawn" question to Mirai. And Mirai isn't too into that idea. Nor is she into the idea of Teddi being the target, since she was in an alliance with her first. 
Mirai decides to let Teddi know that Miesha sees her as a threat and is targeting her. Teddi isn't a bit surprised. Teddi then tells Todrick. And then Todrick tells Miesha. So now Miesha is not happy with Mirai. 
Teddie decides to go to Miesha with a deal. She tells her that if she doesn't go up this week, she won't put her up next time. So now Miesha has a lot to think about. 
And one of the things she thought about was using Carson as a pawn. She promises he won't go home, though. 
So at the nomination ceremony, Miesha decides to nominate Mirai and Carson.