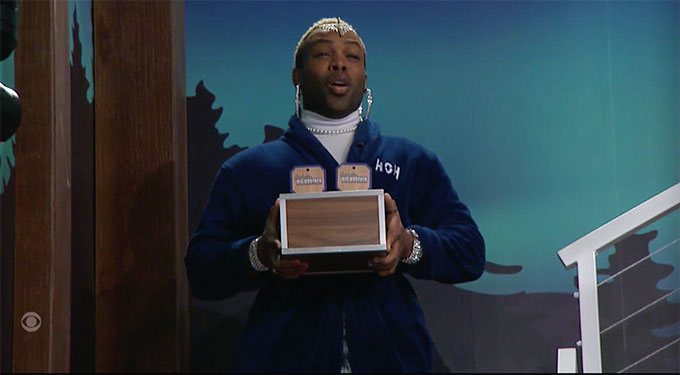 Celebrity Big Brother 3 has been the Todrick and Miesha show all season, but on Sunday night's episode, Todrick literally put on a show. I would like to say it was entertaining, but this isn't a recap not a review. Well, that and it actually wasn't entertaining.  Let's just say that Lamar during the Todrick's show was all of us. See below for reference: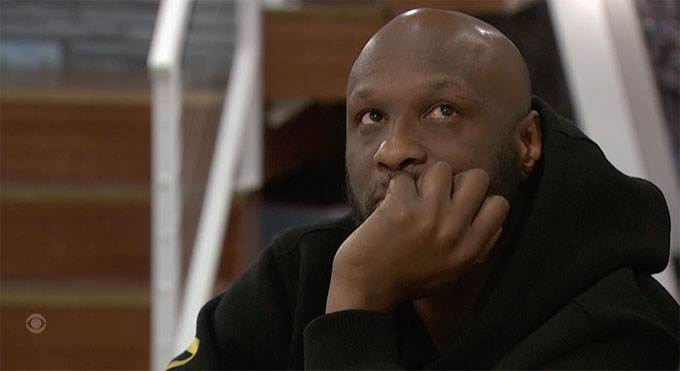 OK, before this does turn into a review, I better get to the actual recap. Sunday night's episode picks up after the Saturday night memory lane episode (you know, the one you and I did not watch). So we catch up with the final 5, who are all celebrating their hard work this season (aka the past month), and Todrick realizing it's time to actually start trying to build a resume since he's probably getting to the end. And as of now he doesn't have anything to show other than some burned jury votes. 
We also get a look back at what happened before the live eviction episode. Cynthia and Carson finally realized that they should never have helped Miesha and Todrick by getting their actual ally Shanna out. Which is what we have all been screaming for a week. 
Cynthia lets Carson know that she's going to try to ride with Lamar and Todd since Todrick and Miesha clearly aren't interested in working with anyone other than themselves. Todrick finally let Carson know about an hour before the show that they were indeed sending him out the door. 
Also before the show, we see that Todd and Lamar are clearly over Todrick. They're both dragging Todrick, which is one of the best things they've done all season. Lamar is being super shady to Todrick and Todd lets him know that he won't have an easy time with votes at the end. And Todrick is over it. He throws a mini-tantrum to Miesha and wonders why they are only coming for him and not her. And Miesha, being the modest soul she is, says they're probably afraid of her so they won't bother. These two are really something else.
It's time for the Head of Household competition. For this competition, the players have to find pieces of art in the BB house and compare that art to what's on the memory wall. They have to figure out what artwork is a forgery – one painting won't match what's on the memory wall. The last player remaining will be crowned the next HOH.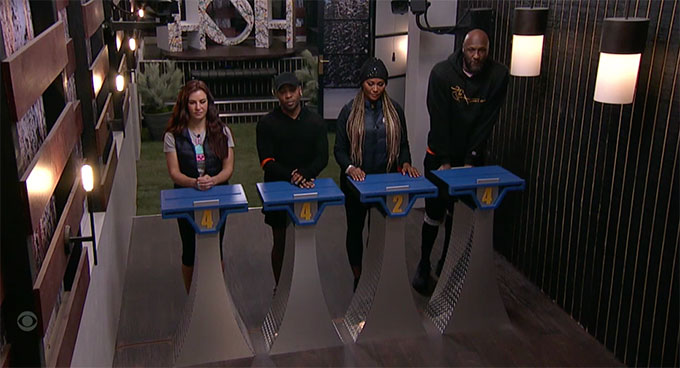 Cynthia is first out. Then Lamar. So either Todrick or Miesha will become HOH. Which is basically how it's been all season. Miesha is out next so Todrick wins HOH. And despite him being her teammate, she would still have preferred winning it herself, which would have been her third HOH.
But since they are still a team, Miesha and Todrick decide the best move would be to nominate Todd and Lamar this round and get Todd out. There's some filler after this that I zoned out on, and then when it's almost time for the nomination ceremony, I see Todrick wandering around the house saying something so I zone back in. 
He lets us know that he's going to make the nomination ceremony a major event. He says there will be singing and all sorts of dram. So let's get to this event. 
Oh it was an event alright. He started by singing himself, badly, down the stairs (there's a reason he placed 16th on American Idol). Then he dramatically nominated Todd and Lamar for eviction. It was all pretty cringe-worthy and not at all as entertaining as he intended it to be. But once again, this is not a review. It's merely a recap. So let's move on. And by let's move on, I mean let's end this recap.