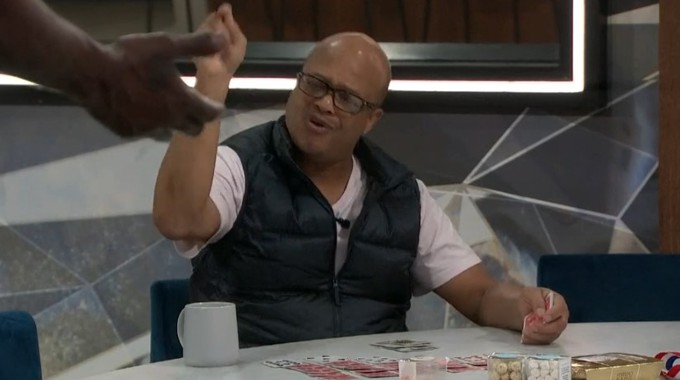 With the Veto comp done and out of the way this round on Celebrity Big Brother 3, the remaining HGs had a relatively quiet Sunday on the Live Feeds. Todrick was trying his best to manipulate Todd into doing his will, but Todd wasn't having any of that and in fact, plans to make the next eviction as difficult as possible for the HOH. Read on for the latest from the Feeds on CBB3.
If you've got the Live Feeds (Free Trial) then you can watch all of these moments with the Flashback feature to go back and watch those important conversations or funny scenes you may have missed.
Celebrity Big Brother 3 Live Feed Highlights – Sunday, February 20, 2022:
10:20 AM BBT – HGs got their wake up call.

11:15 AM BBT – Todd is upset about an earlier argument with Lamar and he vents to Todrick.

11:18 AM BBT – Todd talks to Lamar that he's upset with how Lamar yawned… Todd is upset. About Lamar's yawning. Todd accuses Lamar of being a d**k with his yawns.

11:30 AM BBT – Both Todd and Lamar have calmed and apologized.

11:45 AM BBT – Todrick promises to protect Cynthia and says she definitely will not go home. He tells Cynthia not to even pack… unless there is a DE. (There is a DE.)

11:55 AM BBT – Todrick doubles down that he will guarantee Cynthia's safety. Cynthia in return offers her vote over Miesha if they're at F2. But she warns him that's just one vote and others aren't saying they'll vote for him to win.

12:00 PM BBT – Todrick asks for Cynthia's support and votes in the next coming rounds as well. She agrees to help protect him and keep him over Miesha. Todrick says he wants Cynthia to join him and Miesha in F3.

12:30 PM BBT – Miesha and Todrick trying to do the math on the number of remaining HGs and the finale on Wednesday. They decide there must be a DE on the way.

1:55 PM BBT – Todrick says he may get rid of his Twitter account because people are too mean and vicious on there. He complains that people were upset when it was rumored that he'd be on.

2:10 PM BBT – Todrick compares himself to the other HGs of the season and says he was never on TV, movies, sports, etc. like the other established celebrities.

4:05 PM BBT – Todd and Todrick discuss the votes and whether or not Todrick will have to split the vote and be the one to evict Lamar. Todrick wants Todd to not use the Veto so he doesn't have to renom Cynthia. Todd doesn't like that idea and wants to get off the Block. He worries about being tricked. Todd says he intends to let the vote tie so Todrick has to split it.

4:10 PM BBT – Todd decides he's not willing to do what Todrick wants and will instead use the Veto on himself. Cynthia says they can be trusted, but to do what he feels is right.

4:15 PM BBT – Todd lets Todrick know that he plans to use the Veto on himself.

4:20 PM BBT – Miesha wonders to Todrick if they should keep Lamar. Todrick doesn't want to do that and says he already promised Cynthia her safety. He says he'd work with Cynthia if Miesha wasn't there and would go to F2 with Cynthia. Miesha warns Todrick he'd lose to Cynthia in F2. She says he has a better chance against Todd than Cynthia.

4:30 PM BBT – Todrick worries about rewarding bullies in the game…

4:40 PM BBT – Miesha tells Todrick she expects she could beat him 5-4 in Jury (they don't know Kattan doesn't vote).

5:55 PM BBT – Todrick wishes they had gotten Todd out this round and then, he feels, it would have been game over and easy win for them.

6:00 PM BBT – Meisha lets Todrick know that Todd asked her to shake on keeping him if he stays on the Block. She's nervous about promising him safety if they don't plan to keep him. Todrick thinks they've played a clean game up to this point.

6:05 PM BBT – Todd tells Miesha he plans to vote opposite of her to force a tiebreaker on Todrick.

7:35 PM BBT – Todd, Todrick, Cynthia, and Miesha are having dinner together. Lamar is in the gym by himself.

8:04 PM BBT – Todrick asks Miesha if she had any idea when she first saw him in the house that they'd end up this close. She said she did really know how it would be with him. She said he seemed like he was going to be a lot to handle.

8:30 PM BBT – Todrick is telling Cynthia about his shows and performances.

10:30 PM BBT – Todd, Miesha, and Todrick talking about life back home and what they'll do after the show. Todd doesn't want to do another show where he can't have his phone because he misses his family.

11:30 PM BBT – Todd and Todrick discuss life/work balances and what it was like to buy their home. Todrick didn't want to do reality TV until the pandemic hit and he needed to pay bills.

12:00 AM BBT – Miesha providing Todrick advice on taxes and where he should claim residence to lower his taxes.

1:10 AM BBT – Todrick and Miesha discuss the final rounds. Todrick hopes Miesha can win and get Todd out. Todrick is confident there will be a DE on Monday.

1:25 AM BBT – Todrick guesses they had to do that recap episode because Kattan left and disrupted plans for a DE that episode.

2:00 AM BBT – HGs off to bed.
We're in the final stretch and the HGs are winding down just as they need to be winding up. Monday has the Double Eviction and then one last episode on Wednesday for the season finale where one of these last five HGs will win the big prize.
You can watch all of these Big Brother events using the archives Flashback, the DVR-like feature of this year's Live Feeds which means it's always live, even when you missed it! Sign-up now to get the free trial to watch it all live & uncensored.


Download our Big Brother App, join us on Facebook & Twitter, and get our Email Updates for more!