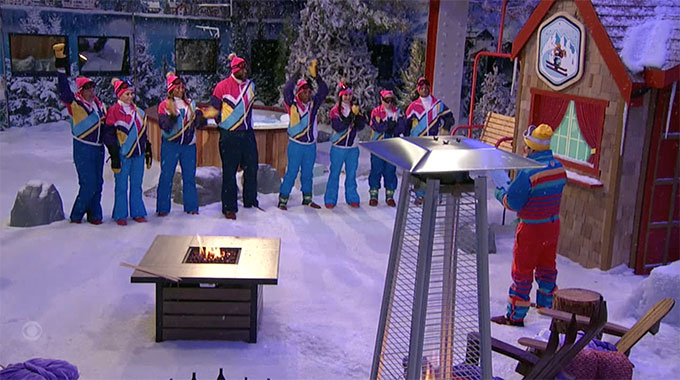 Even though Celebrity Big Brother has only been 0n for a week, it seems like Miesha and Todrick have been targeting Carson for months. And this week they finally get to go for him.
Wednesday night's episode picks up right after Mirai's eviction. Chris Kattan is still confused. He had to remind himself that there's a game going on.
But Kattan still doesn't get why they didn't vote him out. He asks the others what he did wrong and why they didn't let Mirai stay since she wanted to be there so badly. The others try to explain it to to him but he still just doesn't get it.
And then Shanna and Chris Kirkpatrick catch up to decide if they missed their opportunity. Kirpatrick lets us know that they wanted Todrick out, but they were afraid that Kattan wouldn't understand the game enough to vote with them, and that could have been a bad swing and miss.
Meanwhile, the dominant alliance, now consisting of Miesha, Todrick, Lamar and Todd — and still Kirkpatrick I think — decide that Carson has to go up if any of them win Head of Household.
But Carson, Cynthia and Shanna decide that Miesha is the threat and she is the one that needs to go. They just want anyone but her to win the next HOH. You know what that means — she's going to win again. Let's get to it and find out.
Past CBBUS houseguest Kato Kaelin introduces this week's competition. For this game, the players have to take all of their ski clothes off (down to their swimsuit) while holding down three buttons. We've seen this competition before. They play this one individually. The person with the fastest time wins HOH.
Let's find out how the players did.
Todrick 6:54
Kattan Maxed out
Todd 48:36
Cynthia 70:46
Miesha 5:50
Shanna 23:48
Lamar 22:46
Carson 10:38
Miesha is the new Head of Household.
And she can finally go after her and Todrick's main target Carson. There's no reason pretending like she's not going to do that, so let's get to the nomination ceremony and find out.
Yep, Miesha nominated Carson and Cynthia for eviction.