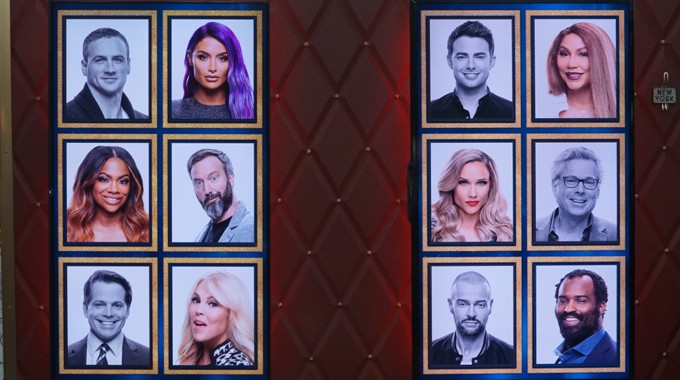 Two rounds of eviction votes tonight on Celebrity Big Brother 2019 and these Houseguests are ready to rumble! So who goes home tonight? Let's take a look.
First up we've got Natalie and Lolo on the Block together after yesterday's Veto meeting where Tom saved Ricky and sent Lolo up in his spot. Now the ladies are destined to be split apart and just might be rethinking that whole idea to flip on their old alliance. Not that Tom is certain to survive the night but those two sure did jump off the dominating ship pretty fast. Let's see how that works out for them!
Last night Natalie told HGs she and Lolo would figure out which of them would be going home. Nah, doesn't work like that. The house is going to decide and there are four votes up for grabs. That even number also means Tom could be the tiebreaker tonight which Natalie and Lolo hope to avoid like they managed to do last time when Kandi stayed over Joey.
Right now Kandi and Dina are lined up to vote against Natalie which is all it would take to force the tie and Tom will tip the scales against Natalie. I won't be surprised to see Ricky or Tamar realize that's going to happen and go along with it to avoid Tom's vote. Tamar wants to keep Natalie and she's right to do that. Lolo is a loose cannon and not nearly as reliable as Natalie. Not up to them though as we noted.
So with Natalie out the door we'll then see Tom head to the sidelines for the next HOH comp. Should either Kandi or Dina win HOH then Tom and Kandi would be safe. But over on the other side we've got Ricky, Tamar, and presumably, Lolo fighting for the chance to put Tom and Kandi up on the Block. Either way then the big battle will be the Veto comp that could throw everything for a loop.
In the end if Tom stays on the Block he'll be the second HG evicted tonight. Should it instead be Dina or Kandi then I think Kandi is at risk because Kandi is definitely playing a stronger game and a bigger threat. Over on the other side, I'd guess Lolo then Ricky then Tamar in the levels of danger for tonight.
Who do you think will be voted out in tonight's Celebrity Big Brother Double Eviction? Tune in at 8/7c for the two-hour event or follow along with our live coverage starting at 8PM ET!