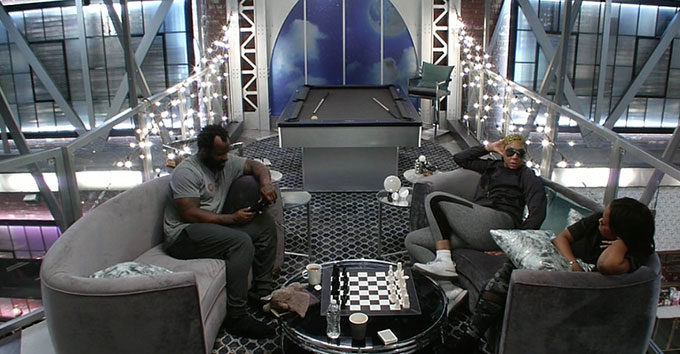 It's eviction day in the Celebrity Big Brother 2 house, but there wasn't a lot of vote talk because the Power of Veto has yet to be played. Tom and Kato see the writing not the wall, though. They realize that whichever of them doesn't win veto tonight will be going home. But what if neither win? Read on to find out what everyone is thinking.
Don't miss your chance to watch along with us. The season is just getting started and that'll run less than a month (check the schedule) so you can watch all the fun for less than $6.
If you've got the Live Feeds (Free Trial) then you can watch all of these moments with the Flashback feature to go back and watch those important conversations or funny scenes you may have missed.
Celebrity Big Brother Live Feed Highlights – Monday, February 4, 2018:
10:20 AM BBT – The HGs are getting up for the day.

10:21 AM BBT – Tamar and Kandi are in the HOH talking about Dina and how they need to watch what they say in front of her. Tamar mentions that she could go back and tell them (Tom and Kato) everything they are talking about.

10:22 AM BBT – Natalie is telling Lolo and Ricky that they have to win tonight because she thinks they have some major targets on their backs.

11:00 AM BBT – Natalie and Tamar talk about the live eviction. Tamar tells her that the goal is to get Tom out, but Natalie is worried that Kandi and Dina might be trying to save them. Tamar is confirming with Natalie that Dina and Kandi have the same goal as they do.

11:03 AM BBT – Talks then turn to what if they end up with Dina and Kandi on the block next, which will go. Tamar says they are both worthless in this game.

12:06 PM BBT – Feeds cut.

1:30 PM BBT – Feeds return. Tamar is working out. Tom and Kato are talking in the bedroom.

1:35 PM BBT – Tom tells Kato he is mentally preparing himself to be evicted tonight. He says there's a significant portion of his brain that wouldn't mind sleeping in his own bed tonight. He says not that he hasn't enjoyed playing the game.

1:38 PM BBT – Dina tells Kandi that she thinks Kato is still tight with Natalie and Lolo. She says she doesn't think their alliance ever stopped. Dina tells Kandi not to trust Kato.

1:39 PM BBT – Tom says that he knows that Ricky wanted Lolo, Dina, Tamar and Kandi to be nice to him so he feels safe and won't fight for the veto. Tom says Ricky is trying to get to them psychologically. Tom said he's had a good experience so if he goes, it's fine. He says he's totally satisfied.

1:40 PM BBT – Kato and Tom agree that Natalie and Lolo are acting like they're mad at Ricky. Tom says they're all acting and it's not convincing.

1:41 PM BBT – Tom tells Kato that he trusts people too much and reminds him of how much be believed Lolo and Natalie. Kato says he didn't expect people to be so deceitful.

1:42 PM BBT – Tom says his speech tonight is the kind of speech you give as your final speech. Kato says his is kind of like that too but his ends with "I really hope Tom wins." Tom tells him not to say that because that'll hurt him. He says he won't say that about Kato either because who ever stays after this needs to pretend they really don't care about the game so they look less of a target.

1:45 PM BBT – Kato gets a pep talk from Tom about what to do after Tom goes home tonight. He says he just needs to act like he's still happy to be there and knows he can't win the game.

1:46 PM BBT – Tom says he thinks one of his biggest mistakes was acting too passionate about winning competitions and the game. Kato wants to nap so he basically tells Tom to shut up.

2:41 PM BBT – Dina asks Kato if he's still working with Natalie and he asks if she's crazy. He says he has no one and is basically already out of the game.

2:57 PM BBT – Kato decides to rehearse his eviction speech.

3:10 PM BBT – Tom and Kato are wondering what everyone is trying to achieve by telling them to win veto and give them some kind of hope.
So it sounds like the idea to evict Kato to weaken Tom has shifted to just evict Tom. So Kato is already trying to work on relationships if he outlives his fellow Team Fun member tonight. Regardless of what happens, though, I don't think it's possible for anyone else to walk out the door tonight.
You can watch all of these Big Brother events using the archives Flashback, the DVR-like feature of this year's Live Feeds which means it's always live, even when you missed it! Sign-up now to get the free trial to watch it all live & uncensored.

Gallery: Live Feeds Highlights