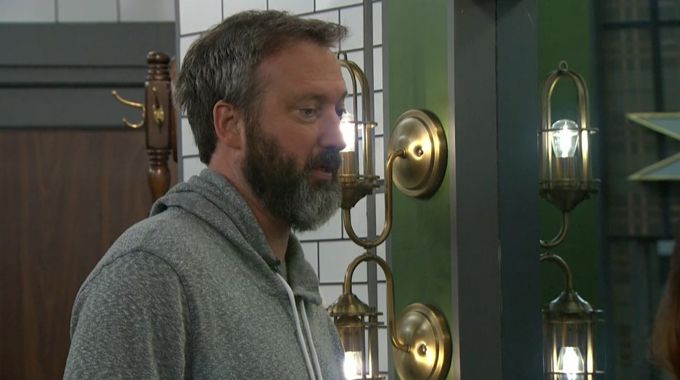 It was Veto Ceremony day in the Celebrity Big Brother house as HOH Ryan Lochte had to make yet another nomination this week. We also learned who the target is this week and they might not see it coming. Read on for all those details and more Tamar and Kandi drama.
Don't miss your chance to watch along with us. The season is just getting started and that'll run less than a month (check the schedule) so you can watch all the fun for less than $6.
If you've got the Live Feeds (Free Trial) then you can watch all of these moments with the Flashback feature to go back and watch those important conversations or funny scenes you may have missed.
Celebrity Big Brother Live Feed Highlights – Wednesday, January 23, 2018:
9:00 AM BBT – HGs are getting up for the day.

9:06 AM BBT – Jonathan tells Ryan he thinks the women want Joey on the Block. Ryan is hesitant to go with that option in case Joey is a target. Jonathan thinks it would throw anyone off from thinking the three of them might be working together. Ryan and Jonathan wonder if going with Dina would take votes away from Kandi.

9:20 AM BBT – Natalie talks with Lolo and Tamar. They question why Jonathan and Ryan are suddenly coming to them to pitch ideas. They sense it as fake.

9:45 AM BBT – Tom and Kato discuss how to handle their plan for Kato saving him with the Veto. They don't want to be viewed as a pair.

10:25 AM BBT – Jonathan worries the women are already against them. Ryan thinks they should target Lolo then. Jonathan is sure that'll be the end of his game if they try because the women won't vote against Lolo.

10:35 AM BBT – Ricky suggests Ryan might not have to put up another HG if the Veto is used.

10:55 AM BBT – Kato and Tom talk about their F2 and hope Lolo and Natalie get to F4 with them. They wonder if who Ryan will side with if Jonathan is voted out.

11:20 AM BBT – Ryan tries to get Lolo and Natalie to give their opinion on a renom but they won't and tell him to just decide. They don't think it'll matter either way if it's Dina or Joey who goes up.

11:25 AM BBT – Natalie tells Lolo that Ryan keeps coming in there in hopes that one of them will tell him to just put them up instead.

11:30 AM BBT – Ryan checks with Joey to see if he can use him as a pawn. Joey says that's okay with him.

11:50 AM BBT – Joey lets Dina know that one of them will be going up but it won't matter.

12:15 PM BBT – Feeds have cut for the Veto meeting.

1:30 PM BBT – Feeds return. Joey was renom'd after Tom was saved by Kato.

1:32 PM BBT – Tom tells Kandi not to bite back if Tamar starts things. He tells her to play smart while she's on the block and says that he's in her corner and will do what he can to keep her safe this week.

1:36 PM BBT – Ricky tells Lolo that Joey knows he's a pawn and he's not upset.

1:38 PM BBT – Natalie tells Lolo that Tamar is crying again and they say they are over it.

1:43 PM BBT – HGs talk about how Ryan had to nominate six of the 12 people on the block this week.

1:44 PM BBT – Natalie says she thinks two people are going home since they're insistent on three nominees this week.

1:46 PM BBT – Tom and Kato talk about who needs to stay this week and Tom says they can kind of decide who goes this week. Tom says they need to make sure they keep Kandi safe. Kato says Ricky is 100 percent on board getting Jonathan out.

1:49 PM BBT – Tom suggests Joey being on the block is tempting … and says he could take Jonathan aside and tell him he could save him and if so would you be cool with himself and Kato.

1:50 PM BBT – Ricky joins Tom and Kato and doesn't like the idea of targeting Joey over Jonathan. Ricky says Jonathan is the biggest threat and needs to go.

1:53 PM BBT – Ricky says that Tamar is probably going to vote Kandi out and Tom asks if it's only her leaning that way. Ricky says yes, Lolo and Natalie are on board with sending Jonathan home.

2:14 PM BBT – Ryan tells Joey he may have made a mistake putting him up. He says if two people go home Joey could be in trouble. Joey thinks he'd go home over Jonathan.

2:16 PM BBT Joey tells Ryan not to feel bad for putting him on the block, but he does think they may have been duped. They think the girls are planning on it be a double elimination and will target the two strong players. Joey says he thinks it will be him and Kandi. Jonathan says no, it'll be the two of them.

2:18 PM BBT – Jonathan thinks there will only be one elimination this week since Anthony left. He says if there's only one eviction, they send Kandi home and they're good (Jonathan doesn't know the plan is to send him home).

2:28 PM BBT – Joey, Ryan and Jonathan discuss how to get votes in case there's a double. They want to pitch a safety deal to Kato. But they don't think they can get Ricky because he won't vote for Kandi. Jonathan said they can offer him safety.

3:00 PM BBT – HGs are working out or teaching each other how to play chess.
So it sounds like Jonathan is the target and he has no idea. However, if there happens to be two people going home this week, Kandi will likely be joining Jonathan out the door. The drama between Kandi and Tamar has annoyed Ricky, Natalie and Lolo and they'd be ready to take a shot at Kandi to try to bring some peace to the house.
You can watch all of these Big Brother events using the archives Flashback, the DVR-like feature of this year's Live Feeds which means it's always live, even when you missed it! Sign-up now to get the free trial to watch it all live & uncensored.

Gallery: Live Feeds Highlights