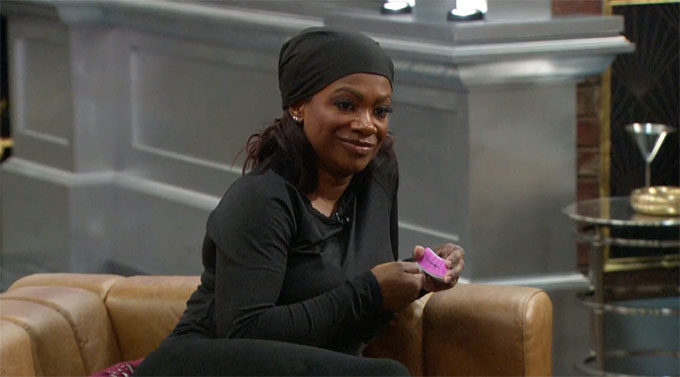 The final Celebrity Big Brother 2 Power of Veto competition was played Monday evening so the houseguests spent the latter part of the evening figuring out what move makes the most sense for them heading into the final four and the final HOH.
Don't miss your chance to watch along with us. The season is just getting started and that'll run less than a month (check the schedule) so you can watch all the fun for less than $6.
If you've got the Live Feeds (Free Trial) then you can watch all of these moments with the Flashback feature to go back and watch those important conversations or funny scenes you may have missed.
Celebrity Big Brother Live Feed Highlights – Monday, February 11, 2018:
10:15 AM BBT – HGs got their wake up call.

10:30 AM BBT – HGs excitedly discuss the finale is just a couple of days away.

12:40 PM BBT – Dina moved back to the bedroom with Kandi and noted it was too negative in the other bedroom.

2:00 PM BBT – Kandi and Dina are playing cards.

2:58 PM BBT – Lolo is now angry and arguing with Ricky. She's upset with his take on something and feels he's being critical of her.

3:00 PM BBT – Dina talks with Kandi as she details how it feels like the silent treatment is a type of bullying. She doesn't like it and it's got her upset.

3:32 PM BBT – Feeds cut. Veto comp time!

8:58 PM BBT – Feeds return. Lolo won the Power of Veto.

9:00 PM BBT – Everyone sitting in the living room talking about the veto competition. Lolo had an asthma attack.

9:18 PM BBT – Tamar asks Lolo how she's feeling. She says she still feels awful and is considering seeing the doctor again.

9:22 – PM BBT – Lolo tells Ricky she'd like to talk about the game and the veto/vote, but she's not feeling good at all. She says she's just glad one of them won veto and not Kandi or Dina.

9:28 PM BBT – Tamar asks Lolo if there's some plan she's not aware of. Lolo asks her what she means and Tamar says she saw Kandi and Dina acting happy and she wants to make sure she's not getting backdoored. Lolo says she's not backdooring her.

9:30 PM BBT – Lolo says she wouldn't save Kandi after the conversation they had last night when Kandi basically said she wouldn't take her to the end.

9:50 PM BBT – Tamar asks Ricky if they should get rid of Dina or Kandi. Ricky says that's up to her and Lolo. Tamar says Lolo isn't feeling Kandi after last night but she's going to talk to Lolo about it. She says she can't accept getting all this way in the game and then Dina ends up winning. She wants to talk to Lolo about keeping Kandi. Ricky says Lolo is going to want Dina to stay because that's the only person she thinks she can beat in the end.

9:55 PM BBT – Ricky thinks Lolo will go off on Tamar about keeping Kandi. Tamar asks Ricky what he would do if the vote is a tie. He says he isn't sure so he'd have to think about it. Tamar downplays it and says it doesn't really matter to her.

10:05 PM BBT – Ricky is condescending Kandi about her not fighting to stay. Kandi says she hasn't given up and that she's going to do some talking, but she needs to think it all through first.

10:55 PM BBT – Lolo questions Ricky on if it would make any sense to use the Veto. She thinks Kandi staying would only benefit Ricky and Tamar. Ricky suggests Lolo could pitch a deal to Dina about saving her with the Veto in exchange for Dina taking her if she wins F4 HOH.

11:00 PM BBT – Lolo doesn't think Tamar will vote out Kandi. Ricky warns they may never agree on that.

11:05 PM BBT – Lolo talks with Tamar and Ricky explaining how Kandi is closer to the two of them. Tamar pushes that Dina is performing well and could finally win something at F4. Lolo counters that Kandi knows all the events better.

11:15 PM BBT – Lolo decides she probably won't use the Veto and the two of them (Lolo and Tamar) will have to decide how to vote. She wants all three of them to come to an agreement on that.

12:00 AM BBT – Dina and Kandi are still hanging out playing cards.

1:30 AM BBT – Lolo is up wandering the house and snacking.

2:00 AM BBT – HGs are out for the night.
It would have been more exciting for us to get one of the nominees with a Veto win on Monday but this isn't bad either as now Lolo will have to stress what to do with her power and who to trust. Will the Bedroom Alliance really consider keeping Kandi over Dina? They shouldn't but I hope they do!
You can watch all of these Big Brother events using the archives Flashback, the DVR-like feature of this year's Live Feeds which means it's always live, even when you missed it! Sign-up now to get the free trial to watch it all live & uncensored.