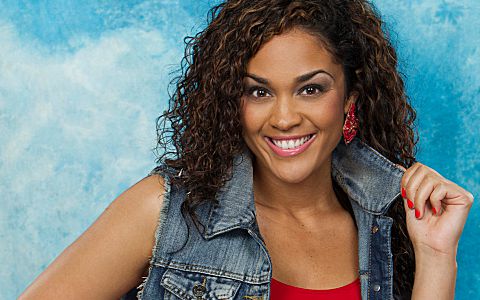 Candice Stewart from Big Brother 15 appeared on CBS's "The Young & The Restless" this Monday in a brief, but focused appearance at the start of the show.
Appearing opposite Redaric Williams, Candice played the role of a real estate agent offering Rederaic's character Tyler a prime piece of real estate plus a little flirting. It doesn't take long for Tyler's girlfriend to arrive and a disappointed Candice to leave, but the scene is hers and she does it well.
click images to see full-size view
Here are a few screenshots from Candice's appearance during Monday's episode in case you missed it. No word on future planned appearances for Stewart but we have seen former Big Brother HGs return to CBS series for repeat performances, so there's a chance we'll see more of the "Candiland" HG turned actress.
Did you see Candice Stewart on "The Young & The Restless"? What did you think of her acting chops? Not bad for a first shot!