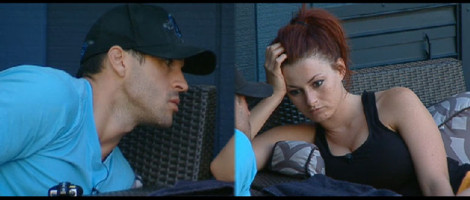 One way or the other, Brenchel is going to be ripped apart this week come Thursday on Big Brother 12 and half of that duo is intent on controlling which way the wishbone breaks. Dead set on protecting his precious Rachel, Brendon is doing everything he can this week to infuriate the HGs and ostracize himself in hopes of garnering angry eviction votes. Try as he might, the decision will still come down to what the rest of the house really wants to see happen.
Brendon decided to put his plan in to action starting with Monday's Veto Ceremony where he belittled Britney as a selfish brat while earning himself a "grow a pair" response. Not content with his verbal jab Brendon stepped it up Tuesday morning by cutting off a sleepy Britney and causing a walking collision. Her apology (despite it being his fault) only caused Brendon to laugh at her. Apparently Big Brother has gotten a little lazy in its rules enforcement…
Britney wasn't the only target of Brendon's games. On Tuesday afternoon Brendon trapped Ragan on his way to the backyard and after Ragan tried to sidestep his human obstacle Brendon accused him of stepping on his flip-flop. Seriously. Ragan recounted the story, which reminded him of high school bullying, to the other HGs who agreed that Brendon has gone off the deep end.
At this stage the house is sick of Brendon's attitude and they've decided to let him believe they're sending him home and keeping Rachel. But fear not, Team Anyone But Rachel, their true target remains bright red with cheap extensions.
If you still haven't given the Big Brother live feeds a try then now is your chance. The Free Trial is still available and will grant you 24/7 access to what's going on inside the BB house before CBS can edit it to pieces. Check it out now and see what the rest of the Big Brother 12 fans are watching and what Brendon will do next!