Big Brother fans were starting to wonder just what might happen to Caleb Reynolds once his "queen" Amber Borzotra was evicted from the Big Brother 16 house. With that seemingly an inevitable event in just a few days it was interesting to speculate on the fallout. Zach wasn't content to speculate though and considered options of action instead.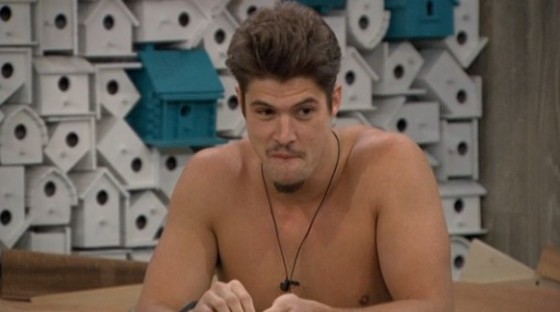 When it looked like Caleb might be blindsided by Amber's eviction it didn't seem unreasonable to consider some rash decisions like following her out the door. Even though I'd love for that crazy drama, I think we all knew that wasn't likely to happen.
But what if he got a nudge in that direction? Enter another "Zach Attack." It sounds like Zach was planning to be a bug in Caleb's ear to see if he could make that happen. Flashback to 12:13AM BBT 7/30 Cams 3/4 on Live Feeds to find Zach returning to the HoH room and sharing Big Brother's displeasure with his possible plan:
In the Diary Room, they were yelling at me, bro. They're like, "If you do what you think you're doing, you're going to have a big problem." He said, "you can not conv…" *Fish*
Could Caleb be convinced to leave the house for Amber? After all the manipulation we've seen so easily applied, yes, probably so, but there's no way Big Brother would have let him.
Their better chance would have been to keep Amber's eviction a secret, then let Caleb continue to take the blame as he had been doing the past two days. From there they could tell Caleb if he got out now before Jury (we still don't know when Jury starts) then he could try to smooth things over while he stayed in town until the season finale.
Of course that doesn't make any sense, but it doesn't have to. Amber + privacy + time = love+marriage+babies. I bet they could have convinced him to willingly throw away his game just as easily as they did to get him to throw away a close ally like Amber.
Toss all that away though as Caleb knows Amber is going home and he's upset at her. She might have finally caught a break if he's fooled again by all this and doesn't want to see her anymore.