Tensions were high on Wednesday night's episode of Big Brother 18 as Frank went all in to save himself this week and the house didn't like seeing someone actually play the game. Oh, and OTEV returned to taunt Frank like it did in Season 14. And taunt it did.
The episode picks up right after James nominated Frank and Bridgette, despite promising Bridgette that he wouldn't put her up before she threw the competition to him.
Frank says he understands that James wants to go with the house, but that just means he has no backbone. Meanwhile, Bridgette says she feels blatantly lied to. Someone cue Julie saying "Welcome to Big Brother."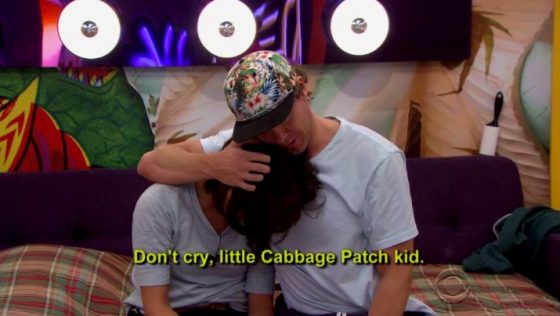 Bridgette is pretty devastated but Frank decides to get to work on saving him and Bridgette. He plays the nice guy to James and tries to quilt him over Bridgette being heartbroken and that he isn't some bad guy like he's been painted in both of his seasons. Frank directly asks James to put Da'Vonne up if he or Bridgette come off the block. James implies he'll consider all the things Frank said, but he really just shrugs it off.
It's time to pick players for the Power of Veto competition. Joining James, Frank and Bridgette in the competition are Michelle (drawn by James), Da'Vonne (drawn by Bridgette), and Nicole (drawn by Frank). But everyone picked lets us know that they aren't using the veto, so this will all be up to Frank and Bridgette.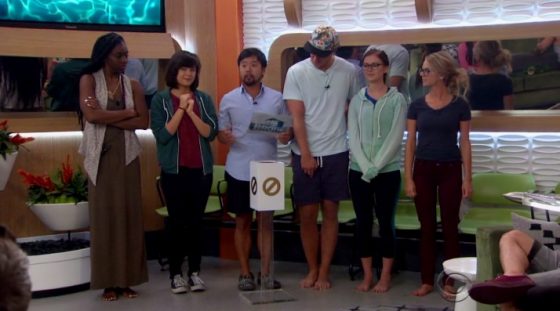 And like last week, he head right into the veto competition. And this week's it's time for the return of OTEV, which was the veto that Frank lost and went home on in Season 14. James is the first person out. He says he threw it, but we can't be sure. Da'Vonne is the next player out. The next player eliminated is Nicole.
That leaves Frank, Bridgette and Michelle. Frank is next out. And in the last round, Michelle beats Bridgette to OTEV and wins the Power of Veto.
Relive the magic. #BB18 pic.twitter.com/F1dBod5CLY

— Big Brother Network (@bigbrothernet) July 28, 2016
Frank still has some tricks up his sleeve, he says, that could keep him and Bridgette both in the house. And by tricks, I think he just means asking Michelle to use the veto on him. He asks her what fans love to see. He tells her they love to see the veto used, they love to see the house flip and they love to see someone backdoored. He also tells her she's playing for about 8th place but if she uses the veto, she could get a lot farther.
And of course Frank's idea includes targeting Da'Vonne, who is one of the people Michelle is closest to. Michelle cannot stand Bridgette, so when he suggests they both stay, she's not interested in Bridgette being around any longer. She also admits to us that she had a crush on Frank and has been jealous he picked Bridgette over her…