So Michelle definitely isn't opposed to Frank staying because she thinks she could become her new ride or die. James and Da'Vonne know they can't let Michelle stay in the room together any longer. Paul decides to go in to break up the little picnic. And Frank kicks him out. So then Zakiyah and James come in. Then Paul returns and then Da'Vonne.
Frank asks for a moment to work his game and they're all a bit angry. I mean forbid Frank play the game and try to save himself in the game. But Paul is at his boiling point. Paulie tries to Derrick Paul into not saying anything, but it does no good. Sorry, Paulie, you're no Derrick.
Paul asks Frank what his end-game is if the veto is used. And Paul gets a little intense and lets Frank knows he's annoyed by Frank's actions. The "fight" really goes no where and pretty soon I'm distracted by an almonds commercial. I wish I had some almonds.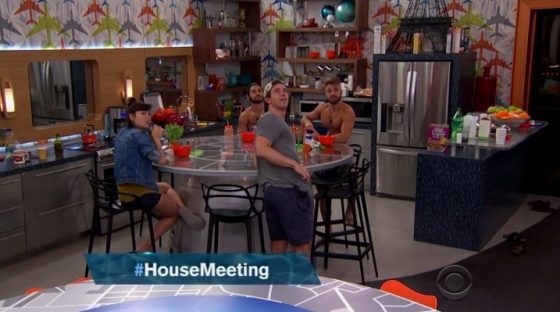 But it's not over just yet. A house meeting is called and Paul says they just need to lay it all out. Frank says he wants the veto used on him and wants Da'Vonne put up in his place. Day says the veto isn't being used, but Frank asks how does she know that. Paulie intervenes and tells Frank that he's going to be straight with him and that it isn't going to happen; either he or Bridgette will go home. Frank thanks Paulie and Da'Vonne for being the other two with a backbone.
Tensions remain high so Bridgette asks Michelle if they can hash out their awkwardness. Michelle says she never felt awkward. Bridgette says she just wants to figure out why Michelle is never nice to her and feels attacked by her. Michelle says she's nice to her sometimes and that she's seen a nasty side to her and that she's a threat to her.
And that "fight" goes no where either. I still want almonds.
At the veto ceremony, Michelle does not use the Power of Veto. So either Frank or Bridgette will be evicted Thursday night.