Time for this week's Big Brother Over The Top Veto competition on the Live Feeds starting at 1PM PT (4PM ET) as the HGs are ready to see who can win the chance to undo the HoH's nominations or void America's pick for HGs on the Block.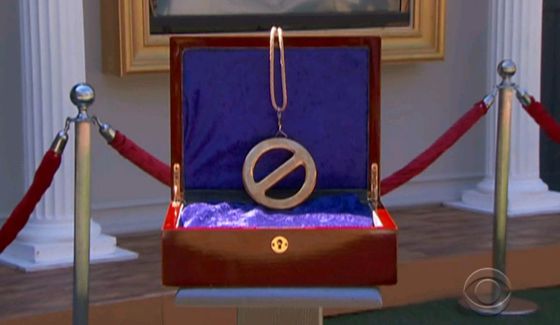 America's Vote earlier gave us this week's third nominee and with only six HGs left there was no need to pick any players. Remember these Veto competitions are live online each week at 1PM PT on Mondays so you can always turn on your Feeds and watch how things turn out.
Today we've got Shelby (HoH), Jason & Danielle (noms), Morgan (America's Nom), and Kryssie & Justin playing for the medallion.
Want to watch? Sign-up NOW for the Live Feeds Free Trial & check out the action as it happens!

Rules revealed this week will be another one-at-a-time comp. HGs had just been discussing that they really hoped it wouldn't be one of those because none of them like those. I agree. Order of playing was drawn: Jason goes 1st. Shelby is 2nd. Justin is 3rd. Kryssie is 4th. Danielle is 5th. Morgan is 6th.
Players will set out dominoes across a path and run through four questions with two answers at each stage. Getting the wrong answer adds 3 mins to your final time per incorrect answer.
Questions included:
Which past HG was with you the longest: Paul or Jeff?
In which competition were most shots attempted: Veto Fore Sale or Perfect SHOTT?
Which competition lasted longer: Balance of Power or Veto Vault?
Big Brother Over The Top Spoilers: Week 7 Veto Competition:
12:45 PM BBT – HGs waiting for the comp to kick off.
1:00 PM BBT – Shelby was just called to the DR.
1:02 PM BBT – Shelby is back with instructions. One at a time comp. Jason goes first.
1:21 PM BBT – Jason is reading the instructions. The comp uses dominoes & season trivia.
1:23 PM BBT – Jason starts.
1:35 PM BBT – Jason is done after a second attempt & respacing his dominoes.
1:47 PM BBT – Shelby starts.
1:56 PM BBT – Shelby is done after one attempt with the dominoes.
2:08 PM BBT – Justin starts.
2:19 PM BBT – Justin is done after a reset and second attempt.
2:34 PM BBT – Kryssie begins.
2:47 PM BBT – Kryssie is done on first try but moved like molasses.
3:01 PM BBT – Danielle starts her turn.
3:11 PM BBT – BB interrupts Danielle likely to remind her of "one path" rule.
3:24 PM BBT – Danielle finally finishes on her 4th attempt. Ouch.
3:34 PM BBT – Morgan begins. She is the last competitor.
3:47 PM BBT – Morgan finishes after much readjusting due to spacing issues.
4:33 PM BBT – Results reveal Shelby won Veto with 9m38s & no penalties.
If you missed any of action then you can later rewind your Feeds to 1PM BBT and watch it again. CBS should also include results and clips in the daily recap video either tonight or tomorrow.
What do you think of the PoV Comp today? What should happen at the ceremony? The Veto Ceremony will be coming up Tuesday at 1PM PT (4PM ET) and we'll post live spoilers then.
Turn on your Live Feeds and enjoy the latest drama. Watch it all now live & uncensored.