Time for this week's Big Brother Over The Top Veto competition on the Live Feeds starting at 1PM PT (4PM ET) as the HGs are ready to see who can win the chance to undo either one of Danielle's nominations or void America's pick for HGs on the Block.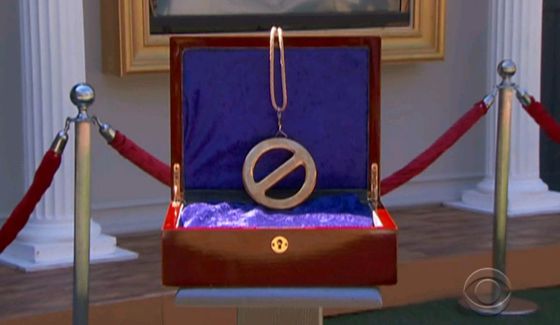 America's Vote earlier gave us the week's third nominee before two more players were picked to join in the competition and now they're ready. Remember these Veto competitions are live online each week at 1PM PT on Mondays so you can always turn on your Live Feeds and watch how things turn out.
Today we've got Danielle (HoH), Whitney & Shelby (noms), Scott (America's Nom), and Jason & Justin (Whitney's HG Choice) playing for the medallion.
But wait, no host? Well it won't be any of the BBOTT HGs because Lawon and Austwins are back to host a haunted house competition party later tonight with the lights out as HGs search for spooky items. Yep, it's the perfect theme for Halloween.
Update: Looks like the special guests are for tonight's party, not the comp. I think.
twitter-video" data-lang="en">

What goes bump in the night in the #BBOTT house? ? The ghost of Clementine O'Grady returns for today's veto comp: https://t.co/QZWdNpMbM6 pic.twitter.com/NpTIUIJjdj

— BBOverTheTop (@BBOverTheTop) October 31, 2016
Want to watch? Sign-up NOW for the Live Feeds Free Trial & check out the action as it happens!

Big Brother Over The Top Spoilers: Week 5 Veto Competition:
12:55 PM BBT – Waiting for the comp to kick off.
1:00 PM BBT – HGs watching the ghost video above with more backstory
1:05 PM BBT – Players wait in the lounge & non-players watch from HoH room
1:30 PM BBT – Still waiting…
1:34 PM BBT – Justin went first & quickly found everything
1:36 PM BBT – Justin is already done!
1:47 PM BBT – Scott is up. He's terrified and talking over and over to calm himself.
1:50 PM BBT – Scott is done after thoroughly freaking out.
2:00 PM BBT – Shelby is a go. She's having fun and enjoying it but still very nervous.
2:04 PM BBT – Shelby is wandering all over and can't find the toy chest to end it.
2:05 PM BBT – Finally finds the toy chest and finishes. Shelby knows she won't win.
2:11 PM BBT – Jason is up and he's talking his way through to stay calm
2:13 PM BBT – Jason is done fast but lost time looking for the doll
4 down & 2 to go. Justin appears to be in the lead, but still close with Scott & Jason
2:20 PM BBT – Whitney is ready. She's missing the first two items then finally finds the next one
2:25 PM BBT – Whitney finishes up after having trouble finding things. Way behind.
2:34 PM BBT – Danielle is ready and moving quickly to find everything.
2:36 PM BBT – Danielle is done FAST! She may have beaten Justin. Waiting on results.
3:04 PM BBT – Results time with the placements on the screen.
Veto winner is… Danielle! She won by 32 seconds with Justin in 2nd & Scott in 3rd.
If you missed the action then you can later rewind your Feeds to 1PM BBT and watch it again. CBS should also include results and clips in the daily recap video either tonight or tomorrow.
What do you think of the PoV Comp today? What should happen at the ceremony? The Veto Ceremony will be coming up Tuesday at 1PM PT (4PM ET) and we'll post live spoilers then.
Turn on your Live Feeds and enjoy the latest drama. Watch it all now live & uncensored.