Time for this week's Big Brother Over The Top Veto competition on the Live Feeds starting at 1PM PT (4PM ET) as the HGs are ready to see who can win the chance to undo either one of Kryssie's nominations or America's pick for HGs on the Block.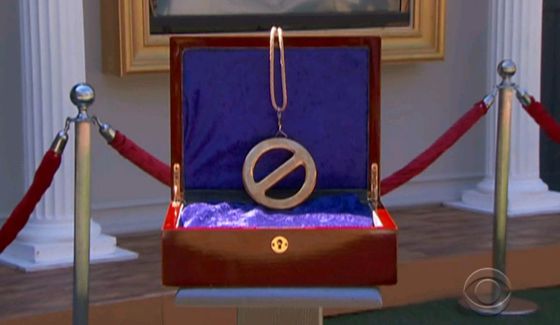 America's Vote earlier gave us the week's third nominee before two more players were picked to join in the competition and now they're ready. Remember these Veto competitions are live online each week at 1PM PT on Mondays so you can always turn on your Live Feeds and watch how things turn out.
Big Brother Over The Top Spoilers: Week 4 Veto Competition:
Along with Kryssie's picks of Scott and Morgan we saw America's Vote nominate Neeley for possible eviction. Then Justin was drawn to join and Scott lucked in to a HG Choice and he went with Shelby for his pick. Those six will be competing today to win the Veto.
Since this will be one at a time the HGs had to draw chips to determine the order in which they'd compete. Order: Morgan, Neeley, Kryssie, Shelby, Scott, and last will be Justin.
HGs must do a wall climb without touching the ground (3 minute penalty for that) and place number tiles below questions. There are 3 questions, 1 for Cornbread, Monte, and Shane. Each has to do with their eviction or performance in a comp. There is a 30 min limit, but with the penalties your time score can be higher than 30.
Correct answers (in case you're watching along) are: 2, 13, & 9.
12:50 PM BBT – Whitney returns from DR with rules.
12:55 PM BBT – Individual performance. Order chips drawn.
1:20 PM BBT – Morgan was called to the DR 20 mins ago. Still nothing.
1:30 PM BBT – Here we go! Morgan is reading the instructions.
1:34 PM BBT – Morgan starts climbing along to read questions & place answer tiles.
1:40 PM BBT – Morgan has buzzed in twice, but getting the "wrong" sound in response.
1:42 PM BBT – Morgan buzzes in a third time & gets it right. ~8 minutes.
2:01 PM BBT – Neeley's turn begins.
2:10 PM BBT – Neeley has exceeded Morgan's time & has lost, but doesn't know it.
2:22 PM BBT – Neeley finishes after 2 drops. ~20m + 6m in penalties.
2:45 PM BBT – Kryssie's turn.
3:00 PM BBT – Kryssie has fallen 4 times now. She declares she'll wait out the 30 mins.
3:15 PM BBT – Kryssie's time runs out. She started one more time then quit again.
3:22 PM BBT – Kryssie is back in the HN room & very upset that she required TWO bandaids.
3:34 PM BBT – Shelby's turn.
3:46 PM BBT – Shelby finishes after messing up the 2nd answer (after initially having it right).
Morgan remains in the lead with ~8 mins
4:04 PM BBT – Scott is up. He moves very quickly with lots of grunting.
4:13 PM BBT – Scott did well, but appears to have been just behind Morgan.
4:27 PM BBT – Justin's turn. He moves really fast, but keeps getting them wrong.
4:57 PM BBT – Justin times out with the 30 min limit. He was trying every combo.
5:10 PM BBT – Scott is raging in his waiting room convinced that he won. It's funny/awkward.
5:32 PM BBT – Results time… Morgan beat Scott by 16 seconds. Crazy close!
Morgan is the winner of this week's Power of Veto. You know she'll be saving herself at the Ceremony.
Ohh, now we're hearing from Kryssie that she plans to renom Whitney in Morgan's place, not Shelby. Then over on the other side Alex was trying to persuade Morgan to save Scott instead of herself to make it easier to get Neeley evicted (by reducing another of LNJ's numbers).
Want to watch? Sign-up NOW for the Live Feeds Free Trial & check out the action as it happens!

If you missed the action then you can later rewind your Feeds to 1PM BBT and watch it again. CBS should also include results and clips in the daily recap video either tonight or tomorrow.
What do you think of the PoV Comp today? What should happen at the ceremony? The Veto Ceremony will be coming up Tuesday at 1PM PT (4PM ET) and we'll post live spoilers then.
Turn on your Live Feeds and enjoy the latest drama. Watch it all now live & uncensored.