This week's Big Brother Over The Top Power of Veto competition kicks off on the Live Feeds at 1PM PT (4PM ET) as the HGs are ready to see who can win the chance to change up Scott's nominations and take advantage of this week's ACP, Pick-A-Veto.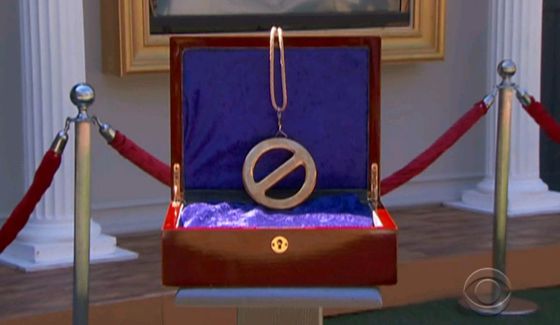 America's Vote earlier gave us the week's third nominee before two more players were picked to join in the competition and now they're ready. Remember these Veto competitions are live online each week at 1PM PT on Mondays so you can always turn on your Live Feeds and watch how things turn out.
Big Brother Over The Top Spoilers: Week 3 Veto Competition:
Players are playing two at a time in a knock-out style comp. Each round had a puzzle in the style of Tetris Scott picked the Double Veto so the last two players would end up both winning a Veto of their own.
1:01 PM BBT – HGs head out to the backyard
1:05 PM BBT – Jason finds the instructions & Feeds cut away
1:10 PM BBT – Scott picks Double Veto for the ACP
1:11 PM BBT – Kryssie is up first & picks Alex to compete against.
1:12 PM BBT – Alex wins R2. Kryssie is out.
1:14 PM BBT – Danielle is up next. She picks Scott.
1:16 PM BBT – Danielle wins R2. Scott is out.
1:17 PM BBT – Neeley is up. She picks Alex to compete.
1:19 PM BBT – Alex wins R3. Neeley is out.
1:20 PM BBT – Justin is up. He picks Danielle.
1:22 PM BBT – Justin wins R4. Danielle is out.
1:23 PM BBT – Only Justin & Alex are left. Both win Veto.
Due to Scott's ACP pick of Double Veto the last two players, Alex & Justin, are still in and win the Veto.
Plenty of drama building up back in the house after the comp ended as Danielle is upset over coming that close to winning safety. Kryssie is crying. Justin is trying to figure out what to do with his win. And the PBS is happy to be safe this week.
Want to watch? Sign-up NOW for the Live Feeds Free Trial & check out the action as it happens!

If you missed the action then rewind your Feeds to 1PM BBT and watch it again. CBS should also have the clip posted before too long that you can watch if Rewind isn't available for you.
What do you think of the PoV Comp playing out live? What should happen at the ceremony? The Veto Ceremony will be coming up Tuesday at 1PM PT (4PM ET) and we'll post live spoilers then.
Turn on your Live Feeds and enjoy the latest drama. Watch it all now live & uncensored.