The Veto Ceremony has arrived for Big Brother Over The Top this week as Jason, this week's medallion holder, must announce his decision and Morgan will make hers in turn. Read on to find out.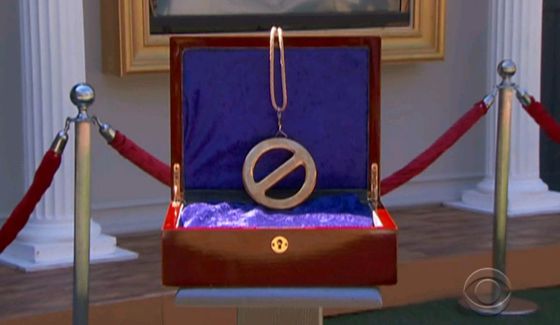 No surprises whatsoever here as the obvious happened in all directions. Jason had no reason not to use the Veto and Morgan had no choice in her renom. Kind of strange that they even had her make a renom announcement at all, but now it's over.
You could watch the ceremony live as it happened but if you missed it then Flashback to 1PM PT (4PM ET) to see how this plays out on our Live Feeds (get the Free Trial now).
Power of Veto Ceremony Results – Week 8:
Jason used the Veto on himself
Morgan had no other option but to renom Shelby.
Final noms of the week are: Kryssie & Shelby
Continuing on in the theme of doing the obvious, Jason and Justin will vote out Shelby on Wednesday night making them along with Kryssie and Morgan the F4. Since this next HoH comp will be the last one of the season Morgan is allowed to participate and she'll need to win either that comp or the last Veto battle for a chance at the F3. Stressful few days ahead as the season wraps up.
Eviction vote comes up Wednesday night and we'll see then how this all turns out. There is no America's Eviction Vote this week so it's all up to the HGs this time. Who do you think will be voted out this week? Cast your eviction prediction vote in our poll below.