The final Safety Ceremony of the Big Brother Over The Top season has arrived as Morgan, the current HoH, must pick from the other four Houseguests to decide which of them will hit the Block tonight. Well, really she's only got three options thanks to Justin's Care Package and with Shelby in the mix of choices this is going to be a really easy choice.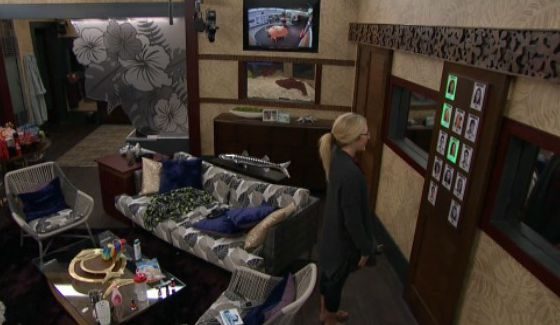 Ultimately the choice of nominations is nothing more than symbolic this week as the real power will be decided in the Veto competition to give us this week's second voter next to Justin, but it's still a part of the game so read on to find the obvious results.
Big Brother Over The Top Week 8 Safety Ceremony & Nominations:
Safety Ceremony:
Since Justin is 110% safe this week from nominations and eviction Morgan had to pick between Shelby, Jason, or Kryssie. No surprises here. Like we discussed above, the Veto will decide the noms.
Nominations – Week 8:
Kryssie Ridolfi
Jason Roy
If Jason, Kryssie, or Justin wins the Veto then one of them comes down and Shelby goes up with Justin and the other LNJ member voting her out. Turn things around with Shelby or Morgan getting the Veto then things stay as they are and Morgan will break the tie against Jason to send him home. Busy day ahead on Monday!
There's no America's Nominee this week so no voting for a third nominee. In fact, there's no more voting at all this entire week and we won't be getting involved again until it's time to decide who will win BBOTT. More details here on the schedule for the final days of Over The Top.
You're not surprised by Morgan's Safety pick, right? Should she have played around with it and nom'd Shelby just for the heck of it? Get ready for Monday's Veto comp and we'll see what happens then!