Nominations are now complete for an interesting week of Big Brother Over The Top as we have not one but two Heads of Household thanks to America's Care Package giving Jason the Co-HoH power this week. That means he'll be safe along with Shelby and they'll need to split their decisions on which two Houseguests have to go up on the Block this week.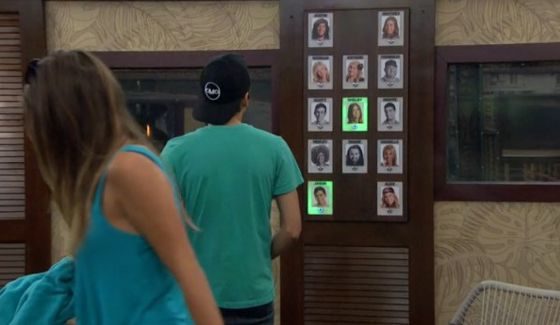 The first round of the Safety Ceremony was held on Saturday with things set to complete Sunday night at 7PM PT (10PM ET) on your CBS All Access Live Feeds.
Big Brother Over The Top Week 6 Safety Ceremony & Nominations:
Safety Ceremony – Round 1:
Shelby picks Morgan for safety.
Jason picks Kryssie for safety.
Well that was a short Safety Ceremony night! No surprises here as Jason keeps Kryssie safe and Shelby greenlights Morgan.
The plan for now remains that Jason will take Danielle as his nominee and Shelby will take Whitney as her nominee in to the Veto comp on Monday. They're each calling dibs on noms in hopes their noms wins Veto then they can help control the final noms. Watch for the confirmation tomorrow.
The second batch of names will be announced Sunday night and then we'll see the combined final decision between Shelby and Jason as their Co-HoH week continues on Big Brother.
Safety Ceremony – Round 2:
Shelby picks Alex for safety.
Jason picks Justin for safety.
Nominations – Week 6:
Shelby claims Whitney as her nominee.
Jason claims Danielle as his nominee.
These "claims" are important because of who is responsible for naming a renom in the case either comes down. These HGs are basically playing as the champions for each of the HoHs as they hope to get the chance to do a renom and go after their real target, neither of which are Whitney or Danielle. Jason wants Alex out and Shelby wants Justin gone.
Once the Safety Ceremony is complete the voting will begin for America's Nominee Sunday at 8PM PT but the vote is only open until Monday morning so you better act quick on that one and if you vote that first night you get another 20 votes again on Monday morning so stay busy! Ready to cast your vote now? Vote Here for 3rd Nominee!
What do you think of the first round's Safety picks? Who do you think will end up as the noms this week? Share your thoughts below.