We're in to the second week of Big Brother Over The Top and the Safety Ceremony is now complete as Alex, the new HoH, has now worked her way through plans to get her two targets on the Block and break up the showmance, if she can, but the pressure and fears are mounting.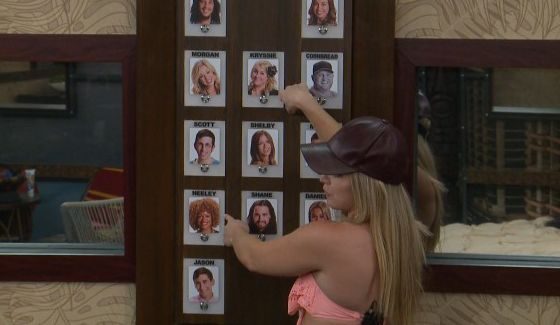 She's been planning for days to split up Shane and Danielle but tonight she's been worried about what could happen with America's Nominee after seeing the results of the Have-Not vote that sent her sister Morgan to the Slop line. Did she let that deter her or would she press on?
Big Brother Over The Top Week 2 Safety Ceremony & Nominations:
Week 2 Nominations:
Danielle Lickey
Shane Chapman
Morgan was with Alex on Saturday night going over the possibilities and she was worried that if Alex followed through with getting Shane and Danielle on the Block then if she's the 3rd nominee she'll be the one to go. Alex appears determined though and said she'd go through with the plan but would leave herself some options in the two-day split including keeping Monte and Scott for the second round. Maybe that's a just-in-case sort of plan.
Safety Ceremony – Round 1:
Alex selected the following HGs as safe this week from nominations:
Kryssie
Whitney
Neeley
Morgan
Just before the meeting Kryssie announced she was using her ACP power to save Jason this week so that makes him the 5th "safe" HG this week, but unlike the four names above, Jason can not be renom'd so he's completely safe until the next round.
Sunday night delivered the second round of the Safety picks to set us up for the week's two nominations by the HoH.
Safety Ceremony – Round 2:
Alex selected the following HGs as safe this week from nominations:
Shelby
Justin
Monte
Scott
Now that the Safety Ceremony is complete the voting will begin for America's Nominee at 8PM PT but the vote is only open until Monday morning so you better act quick on that one and if you vote Sunday night you get another 20 votes again on Monday morning so stay busy!
What do you think of Alex's Safety picks? Are these smart moves or just safe moves? Share your thoughts below.