Voting is now open for America's Nominee, the third seat on the Block, this week for Big Brother Over The Top and after last week's one-two punch against Cornbread there's a real threat that this nominee could be the one out the door if viewers make a strategic strike.
Update: Voting is over and the official results are in for this week's 3rd nominee.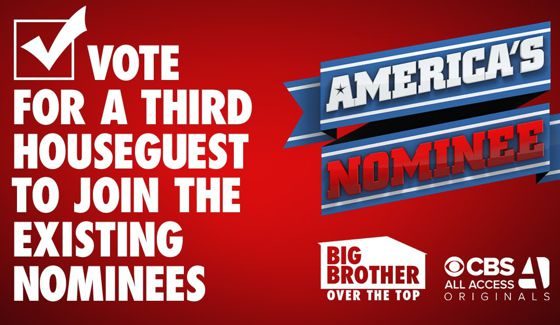 Eight Houseguests were just declared "safe" this week but that's only when it comes to the first round of nominations by Alex. Now it's the viewers' turn to decide and they can pick from any of those temporarily lucky players. Remember that Jason Roy is safe from start to finish thanks to Kryssie's ACP power so who will be the third nominee this week? The decision is ours.
Danielle and Shane were nominated by Alex but maybe that third nominee pick by America will help the showmance survive the week. Will America continue to pummel Monte and The Plastics or will they turn the tide and vote against the other side of the house? It's time to pick and you won't have long.
To vote, fans must be registered and subscribed to All Access (get your Free Trial now). We have 20 votes each day. Voting ends at 12PM ET (9AM PT). Go here at cbs.com to vote for the 3rd nominee.
As a reminder again, here are the rules to keep in mind as they were presented last week by Julie Chen and announced to the Houseguests:
3rd Nominee – America's Vote – Rules:
There can be no back to back weeks of nomination for the 3rd nominee. So if "HG John" gets nominated by viewers in Week 1 he can't be nominated again by viewers until Week 3.
All three nominees would get to play in the Veto competition.
If the 3rd nominee comes down from the Block then there is no renom.
Want to cast your vote too? Vote Here for 3rd Nominee!
Remember the voting stops at 9AM PT (12PM ET) so don't want to vote. If you vote the night of then the next morning you get to vote another 20 votes so it's worth it to be on the ball with this one.
After you've done your official voting at cbs.com be sure to vote in our poll here as we await the official results on Monday.
So I did up my whiteboard cases for various 3rd nominees and we should remember there are 9 votes this week including America's vote. That's something Scott forgot to calculate in to the equation and that slip up could cost him or at least his side. Morgan and The Plastics currently have 5 of the votes but if one of them goes on the Block then they lose one vote and you have 4 votes from the other side plus America's vote for 5 over the first side's 4. America could end up the tie-breaker here.
If we see a Monte, Morgan, Scott, etc. nominee then if the other side bands together and America puts its vote against their nominee then that Houseguest will go home this week. That'd be the second straight override of the game from out here. Impressive use of force, but also a little disappointing for the HGs struggling to play the game in a whole new way. It's your call and your vote.