Kryssie Ridolfi has a big choice coming up today with her America's Care Package power of "Save-A-Friend" and she's got her mind made up on what to do.
Update: Kryssie made it official tonight. Flashback to 6:05 PM BBT 10/8. Save-A-Friend was used to protect Jason from eviction this week. He has secured a spot in Week 3 of BBOTT.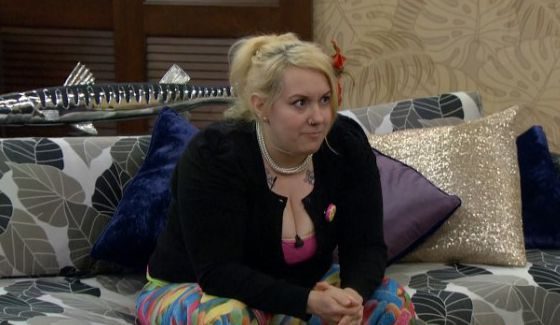 There's been back and forth pressure coming from Kryssie's allies as everyone wants to get their hands on safety for the entire week, but it didn't take her long to narrow things down to either Justin or Jason before a talk with Alex settled the choice.
Earlier in the day Alex told her own allies she still wanted to target Shane and Danielle with no interest in going after Jason or Justin. With that in mind Alex knew her best bet was to convince Kryssie there could be danger around the corner for those two as decoys to draw the power out against someone other than her targets. I like it.
Around 4PM BBT on Friday Alex and Kryssie have their first talk about the plans for ACP and nominations. Alex is suggesting there is pressure on her to put Jason on the Block while promising to not nominate Justin. She's laying the ground work for her plan.
Flashback to 9:05 PM BBT 10/7 on Cams 1/2 as Kryssie sits with Alex in the HoH room.
They've been having a long talk about what's going on this week. Kryssie confirms to Alex that she's leaning toward using it on Jason. Alex asks her to please do that because it'll help her out this week. This goes back to the fib she made earlier. No one was really pressuring her to put up Jason though Monte had been angling hard for Justin to get on the Block.
Kryssie says Jason is her best option since no one will be surprised and last week Jason was a target so she doesn't have to give my defense of the move. She does worry that Justin could be upset and jealous of the move.
Later that night, just before midnight, Kryssie spoke with Justin and explained her plans to save Jason with the ACP. He wasn't worried or bothered at all and said if he's in the Veto comp then he'll be ready to perform and win.
So there we go for Kryssie's plans with the ACP power this week. She's going to save Jason and he'll be removed from the list of eligible HGs to evict this week. I don't think there's any chance of renom, Backdoor, etc. once this is played for Jason. He'll safely move on to Week 3.
As for when the announcement will be made, we don't know for sure, but it has to come before the Safety Ceremony at 7PM PT tonight. Maybe they'll combo the events with Kryssie confirming her decision and then Alex going upstairs to do her thing with the wall of buttons. We'll post the results when it's official.