Voting is again open for America's Nominee, the third seat on the Block, this week for Big Brother Over The Top as we prepare to see if America will overthrow yet another Head of Household's reign and impose their decision on this week's elimination. It's your choice, fans.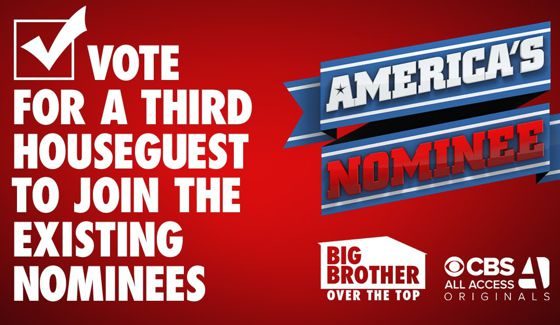 Shelby has made her noms official now after the close of the second round of the Safey Ceremony. Now it's time for the viewers to make their pick. So who is it going to be? Read on to help decide the third nominee.
After Shelby's safety picks were final we had the nominations revealed as Danielle and Jason, which takes those two off the list and gives us three other choices for this week's 3rd Nominee. You can pick from Kryssie, Justin, or Morgan. Who do you want it to be?
Ready to cast your vote now? Vote Here for 3rd Nominee!
Remember the voting stops at 9AM PT (12PM ET) so don't want to vote. If you vote the night of then the next morning you get to vote another 20 votes so it's worth it to be on the ball with this one.
Results will be revealed Monday morning when the Veto players are picked, around 10AM PT. The PoV comp is held at 1PM PT live on the Big Brother Feeds and there's of course plenty of potential for drama there that you won't want to miss.
After you've done your official voting at cbs.com be sure to vote in our poll here as we await the official results on Monday.