Our weekly Popularity Poll is back for Big Brother Over The Top and that means it's time to support your favorite Houseguest with your vote each day to move him or her up the charts and ranks.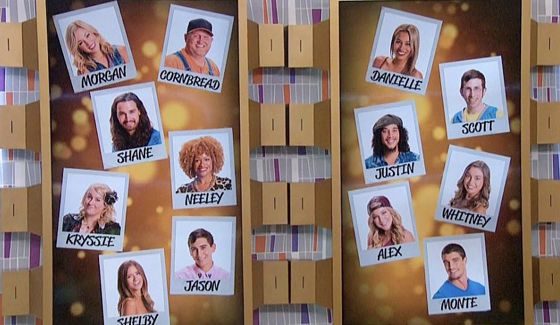 All thirteen BBOTT Houseguests are here in the poll so even if they've been voted out you can still support your favorite. Read on for last week's results & this week's new poll.
Readers have definitely settled in on their favorites for awhile now as we're seeing a continuation of the steady rankings of recent weeks. This time around the top eight positions are all held by the very same HGs in the very same positions as last round. It's not until Neeley that we see any change after she got up from the 13th spot and improved three ranks to 10th. The first three evictees each fell one spot to make room for her and rounded out the bottom three in the results.
I think it's really interesting that Alex could end up again as the most popular player here but then find herself on the losing end of America's Nom and America's VTE. Clearly the wider range of BBOTT fans do not line up with our readers' preferences there. Or maybe some of them like her but wanted to see her forced to play then forced out the door.
Now that we're down to the last few weeks of the season I'll be interested to see how things shift as we approach the F3 of the season. Once we get there the viewers will be voting to pick the season's winner and while I thought Alex would have been a contender based on her votes in our popularity polls, clearly that's not necessarily the case. It'll still be fun to see how that compares to the way things turn out though.
Check out all the results below to see how things compared in the latest results to the week before that then vote in our new poll for Week 7. You can keep coming back each day of this week cycle to vote for your fav HG.
Big Brother Over The Top Player Rankings – Week 6's results vs. Week 5:
Alex Willett – 31.4% (+0)
Jason Roy – 22.5% (+0)
Shelby Stockton – 17.2% (+0)
Justin Duncan – 9.3% (+0)
Danielle Lickey – 7.5% (+0)
Morgan Willett – 5.6% (+0)
Whitney Hogg – 3.2 (+0)
Kryssie Ridolfi – 1.2% (+0)%
Scott Dennis – 0.68% (+0)
Neeley Jackson – 0.54% (+3)
Monte Massongill – 0.3% (-1)
Shane Chapman – 0.19% (-1)
Cornbread – 0.09% (-1)
Ready for the next round of voting for this week's popularity poll? Make your pick below. Be sure to vote for your favorites here in our poll each day for the next week and check back then for the final tallies: