Big Brother Over The Top Houseguests started off their day early again and the HoH competition continued as the BB Bug worked it's way down to selecting the first Head of Household. Now it's time to move on to target picking and deal making.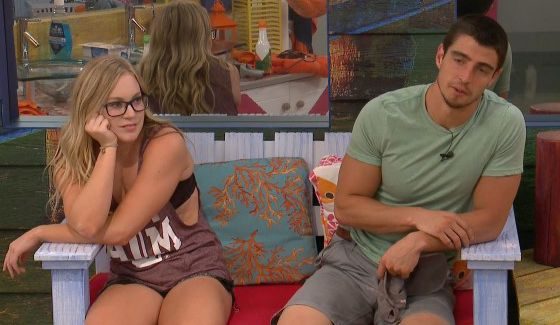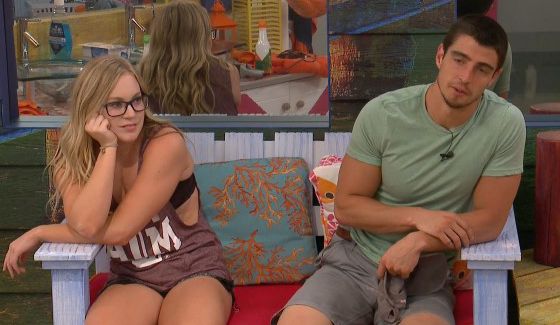 If you've got the Live Feeds (Free Trial) then you can watch all of these moments with the Flashback feature to go back and watch those important conversations or funny scenes you may have missed.
Big Brother OTT Live Feed Highlights – Friday, September 30, 2016:
8:40 AM BBT – Neeley is up and outside. Shane is wandering the house then comes out to visit. Soon more HGs start to join the living.

8:45 AM BBT – CB finds Shane and tells him about seeing Scott outside last night with a group of people. Shane says they can still trust Scott to be with them, but maybe they should hold back from telling Scott everything. CB says they should keep Scott but he'd be the first to go at F4.

10:15 AM BBT – Morgan gives Cornbread the Bug as part of the HoH challenge.

10:20 AM BBT – Scott checks in with Shane and tells him what Jason was saying last night. Tells Shane that Jason said they should keep Monte, Shane, and Danielle as they'll naturally become bigger targets later to shield the others.

10:45 AM BBT – Whitney really liked Frankie and wants to know from Jason what he's like. Jason says he's not as crazy in real life.

11:05 AM BBT – CB passes the Bug to Jason.

11:35 AM BBT – Jason tells Scott he's planning to give the Bug to Whitney since she'd let one of the guys run her HoH and he already promised Monte he wouldn't give it to him.

11:40 AM BBT – Jason lets Shelby know he'll give the Bug to Whitney and he's hoping Alex will be the HoH. Jason says he's going after Cornbread.

12:00 PM BBT – Monte tells Alex that Jason promised him he wouldn't infect him and that they were cool, but he thinks Jason is just playing the game and lying to him. Monte mentions he might nominate Kryssie and Jason if he gets HoH.

12:20 PM BBT – Jason gives the Bug to Whitney. She will soon pick the HoH between Alex or Monte.

12:35 PM BBT – Jason checks in on Whitney to make sure she's not mad. She isn't but worries that whoever she picks would be mad at her and then nominate her in retaliation. (What?)

12:40 PM BBT – Whitney and Alex checked in and chatted. They're planning to go with Monte for HoH and hope to make a deal that they can come upstairs and use his shower out of the exchange.

12:50 PM BBT – Whitney and Monte working on some deals. He promises to watch her and Alex's back if he's HoH.

1:02 PM BBT – Final alarm. Whitney gives the Bug to Alex. Monte is the first HoH of the season.

1:30 PM BBT – HGs lounging around the pool and getting sun. General chatter.

1:40 PM BBT – Monte announces to the group that it's too early in the game to be making deep thought decisions on nominations so no one should take it personally.

2:05 PM BBT – Julie Chen comes over the announcer and screen to inform the HGs of a few changes. There will be no Noms Ceremony. HoH will be told to name a certain number of HGs as safe. There will be the Veto as usual and HGs who were named "safe" can still be renom'd at that point. Julie does not mention the 3rd nominee by the viewers.

2:35 PM BBT – Alex worries Shane and Danielle could end up a power couple in the game now that they're starting to be together.

2:55 PM BBT – Alex and Whitney swear to watch out for each other in the game.

3:05 PM BBT – Morgan tells Shelby she expects Monte to target Jason. Morgan thinks Neeley, Kryssie, and Danielle could end up being the next few targets.

3:20 PM BBT – Shelby and Morgan doubt that Scott is really a debt collector (he does appear to be a debt collector from what we know).

3:40 PM BBT – Morgan warns that CB may be well liked by viewers so he's okay to keep for now, but he'd be dangerous for them at the end.

3:50 PM BBT – Shelby and Morgan still hanging out and chatting about personal things as Morgan seems to be working on expanding her social circle in the house.
Now we've got Monte in control of the noms, though we know that'll just be two of the three. Those "safety HGs" are coming up on Saturday and we'll get the real nominations on Sunday so this should be interesting to see how it works out. We'll watch for more planning and talk tonight but it'll be hard for the HGs to really plan when they have no idea how this is going to work the first round.
You can watch all of these Big Brother events using the archives Flashback, the DVR-like feature of this year's Live Feeds which means it's always live, even when you missed it! Sign-up now to get the free trial to watch it all live & uncensored.


click images to see full-size