It was a busy day in the Big Brother Over the Top house as the HGs learned America's Nominee and played the veto competition. The rest of the day was spent plotting and scheming as one HG jumped ship from their alliance and the veto holder pondered what to do with it.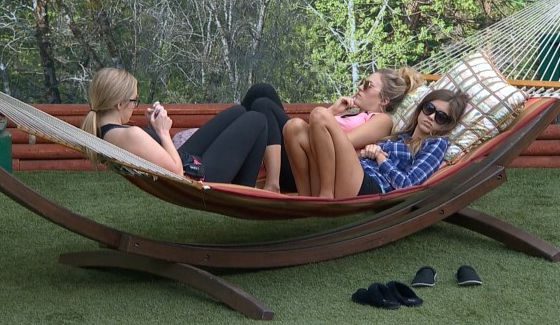 If you've got the Live Feeds (Free Trial) then you can watch all of these moments with the Flashback feature to go back and watch those important conversations or funny scenes you may have missed.
Big Brother OTT Live Feed Highlights – Monday, November 7, 2016:
9:00 AM BBT – HGs get their early wake up call for a full day.

9:30 AM BBT – General chatter as HGs get ready for the meeting.

9:50 AM BBT – Shelby getting pumped for the day dancing to her music.

10:00 AM BBT – America's Nom reveal time has arrived.

10:05 AM BBT – Alex revealed as America's Nom and then Morgan is picked to play in Veto.

10:10 AM BBT – Jason is upset that Alex's chip was drawn (giving her HG Choice) as he feels it's drawn too often.

10:15 AM BBT – Jason and Danielle note that this is a repeat of the first week where it was four of the other side against the two of them in the Veto comp.

10:25 AM BBT – Jason feels confident they can get Alex out this week and then he won't have to see her chip anymore.

10:30 AM BBT – Shelby decides they'd do well to get Danielle out this week instead of Justin. They'll target him in the DE instead.

10:35 AM BBT – Shelby says she might want to take Whitney down instead of Alex if she wins the Veto.

10:35 AM BBT – Jason jokes the competition will have something to do with gymnastics since the other side are cheerleaders, etc.

11:15 AM BBT – Jason is upset and feels things were made more difficult for them between Alex going up and Morgan being her HG Choice in the comp.

11:45 AM BBT – Whitney agrees that she'd take out Danielle if it's a knockout style comp.

12:15 PM BBT – Shelby and Alex joke about Justin being the host and having to read off the rules considering he clearly didn't read them in the HoH comp and was doing it wrong.

12:30 PM BBT – Shelby feels confident that Whitney would stick with them and vote Danielle out.

12:40 PM BBT – Kryssie admits it would have probably been better for the group if she was nominated instead of Alex, but she's really glad it wasn't her for the America's Nom this week.

12:55 PM BBT – Feeds cut to "comp coming soon" screen.

1:20 PM BBT – Feeds return as Justin is reading instructions to the HGs.

1:40 PM BBT – Comp is over. Jason won the Veto!

1:45 PM BBT – Jason and Danielle are celebrating and dancing in the Storage room.

1:50 PM BBT – Shelby is crying that she messed up in the comp by stepping down and losing her second tube of 10 balls.

2:00 PM BBT – BS is upset that LNJ were celebrating after the comp. Alex is very upset that Danielle was peptalking herself during the comp.

2:05 PM BBT – Alex is committed to fighting to stay and says she won't give up.

2:10 PM BBT – Morgan is upset that Whitney isn't even stressing at all.

2:15 PM BBT – Morgan and Alex trying to decide which of them has a better chance of winning if they stay.

2:45 PM BBT – Whitney makes a comment to Justin about celebrating the win. BS overhears from sitting up on the second floor and are upset.

2:50 PM BBT – Morgan goes to confront Whitney about her comment. Whitney says she meant about Justin not being a HN anymore.

2:55 PM BBT – Alex and Shelby questioning if Whitney even tried for the Veto.

3:15 PM BBT – Shelby says now that they know where Whitney stands they don't have to try and protect her anymore.

3:20 PM BBT – Alex decides it'd be easier to flip Danielle than Jason to get Whitney voted out.

3:25 PM BBT – BS pitches to Jason that they keep them over Whitney. Jason says he'll listen to their offer but he isn't sure about keeping their group together and let them get closer to the end together.

3:40 PM BBT – Jason lets Justin know the girls are pitching deals to get Whitney out. Justin isn't surprised. Jason ponders using the Veto on Whitney instead of Danielle.

3:45 PM BBT – Danielle points out they just need to get Alex out and they've got the perfect chance right now thanks to America.

4:20 PM BBT – Shelby is alone and practicing days and events.

4:30 PM BBT – Whitney comparing notes with the Jamboree. Whitney knows the BS are throwing her under the bus. Whitney says oh well if she wins HOH she'll nominate Morgan. Whitney said she knew they were going to be mad at her but this all needed to come out. Jason said they've been looking for a reason to get Whitney out so now they have one. Danielle says they've been throwing Whitney under the bus since last week so this week has nothing to do with them targeting her.

4:34 PM BBT – Jason says he listened to Alex's pitch but it would be dumb to stray from their plan at this point. Jason says he just has to trust Whitney. She tells him he should trust her because she had no idea that Jason was going to end up HOH or win veto or any of that. Whitney says she would nominate Morgan and Shelby if she wins HOH next. Alex enters the room and talk stops.

4:35 PM BBT – Alex goes outside to tell Morgan and Shelby that they're screwed because she walked in the room and saw Whitney huddled and whispering with the Jamboree. Morgan says she's definitely going up then. Shelby says them talking doesn't mean anything new because Whitney already sold them out.

4:37 PM BBT – Morgan says she hopes Jason take their deal but she's not expecting him to. Alex says there's still a glimmer of hope but it's not looking too good right now. Morgan says he might pull Danielle down and put herself on the block.

4:55 PM BT – Shelby says she needs to bring out her inner lawyer and sell their case to Jason. Morgan says she's not a waitress anymore and is a lawyer. Shelby makes a Legally Blonde reference to throw the off what she just said.
Feed Highlights continue on the next page…