Long night for the Big Brother Over The Top Houseguests and fans as an endurance competition followed the season's first eviction but even then the HGs weren't ready to go to bed just yet. Luckily it didn't take long for the new HoH to set her targets.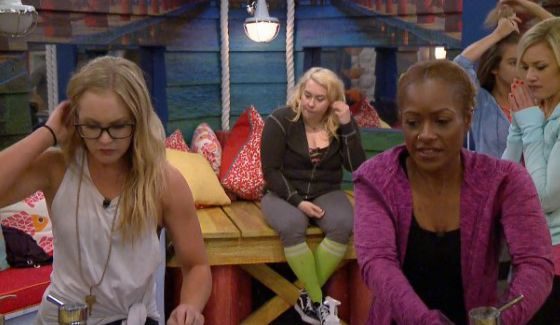 If you've got the Live Feeds (Free Trial) then you can watch all of these moments with the Flashback feature to go back and watch those important conversations or funny scenes you may have missed.
Big Brother OTT Live Feed Highlights – Wednesday, October 5, 2016:
11:30 PM BBT – Endurance competition has ended with Alex as the new HoH. She's already whispering to Monte that she'll target Danielle.

11:35 PM BBT – Jason questions Scott on why he would have been in the Storage room for so long with Monte before the show. Scott promises him he was going to vote out Cornbread.

11:40 PM BBT – Shelby and Alex celebrate with a dance. Alex says she'll make her own nomination choices this week. She wants to work on Neeley pointing out that no one from her side was cheering for her. Alex plans to bunker down and force people to come to her instead of approaching them.

11:45 PM BBT – Alex camtalks with a request to America that they not put up Shelby, Whitney, or Morgan.

11:50 PM BBT – Alex plans to work on swinging Kryssie and Neeley over to their side and maybe Scott too. Shelby thinks that's a good plan. Whitney joins the talk and comments they could have gotten Danielle out. (She's under the impression America voted against Danielle. Alex has been suggesting that although it was her own hinky vote that did it.)

12:10 AM BBT – Scott checks in with Alex. He asks if she's going to still let Neeley make one of the noms like the deal she offered. Alex says Neeley didn't accept the offer so no. He promises to do whatever Alex wants and they can override any nominations by America. They plan to talk more later.

12:15 AM BBT – Alex tells Scott that Danielle & Shane, Justin, and Jason are in control and need to be targeted. They know it was Danielle who got things to flip.

12:20 AM BBT – Alex tells the Plastics she won't discuss plans with the other side so they can just get more paranoid instead. Monte thinks that group ruined Shane and wants him up against Danielle and Justin.

12:21 AM BBT – Shelby really seems bothered that Danielle claims to be a Harry Potter fan but has only seen the movies… (This of all things for an annoyance is interesting.)

12:25 AM BBT – Monte is truly troubled by Justin's low class stories. His delicate sensibilities have been offended by the things Justin has said. Monte says he only trusts the four girls (Plastics alliance) and doesn't really trust Scott.

12:30 AM BBT – Monte hopes to bring Neeley over to their side since he believes she would have kept him safe this week.

12:30 AM BBT – Alex plans to put up Shane and Danielle to dismantle the showmance. Monte suggests to instead let America nominate Danielle, but Alex says it's too risky to rely on that. (Alex knows they didn't vote against Danielle).

12:40 AM BBT – Justin is frustrated that he lost. (He was dancing instead of holding still during the comp.) Justin says he's still coming for Monte.

12:50 AM BBT – Monte tells Alex he still wants Justin out.

1:00 AM BBT – Danielle, Shane, and Jason talk about if Alex was cheating with how she had her extra hand since Big Brother called her out and gave her a warning but no DQ during the comp.

1:35 AM BBT – Kryssie is anxious to see how America votes for the next nominee and if it gives them a chance this week.

1:40 AM BBT – Kryssie and Danielle agree they saw Alex cheating with how she held the pole but admit she got away with it.

2:40 AM BBT – Justin has made a new song about Cornbread and his dirty sheets. No one wants to sleep on them and the backyard is on lockdown so no way to wash them now.

3:30 AM BBT – HGs still awake and bored but hanging around goofing off.

4:30 AM BBT – HGs start to call it a night and turn in.
Nominations won't even start until Saturday so there's plenty of time for things to change on these plans but for now I'd expect Alex to send Danielle and Shane to the Block. America has plenty of votes coming up to impact those decisions though so we'll have to see what happens.
You can watch all of these Big Brother events using the archives Flashback, the DVR-like feature of this year's Live Feeds which means it's always live, even when you missed it! Sign-up now to get the free trial to watch it all live & uncensored.


click images to see full-size