This is your last day to snag a free month of the Big Brother All Access online subscription to set yourself up with a trial run of the upcoming Big Brother Over The Top season.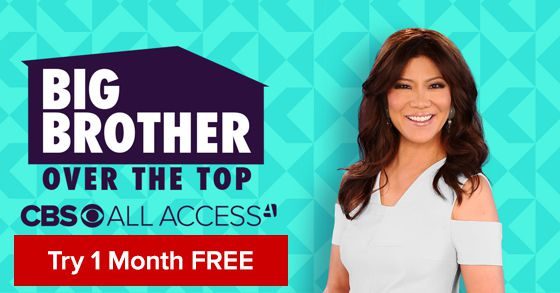 With Over The Top premiering on Wed, Sept. 28th a month long trial of All Access, the home of your Live Feeds and the upcoming BBOTT series, you'll be able to get midway in to October before incurring any costs to watch the new season. Even better, is that with this trial you'll likely only have to order up two months of CBS's All Access to get you through the full debut season of the new Big Brother series.
It's lucky timing for Big Brother fans since CBS typically runs a couple of these free-month promos during the year and this one lined up well for the OTT season. There's also still a few more days of the Big Brother 18 Feeds, but I'll be the first to admit they're pretty slow in these last legs.
Update: CBS has killed the promo code early. Bummer. Hope you got it before it was closed out.
To get the one month Free Trial you'll need to follow this link or use any of the banners here then enter promo code FALLACCESS during the last steps of checkout. With that you will still have to enter payment information in advance, as with any trial of a subscription service, but you won't be charged until the trial ends and they switch you over to your billing rate of $6/mo. That's about 20 cents a day. Then when you're done you can easily cancel in your online account settings.
The promo code, FALLACCESS, expires today, Friday, September 16th so if you like free stuff be sure to use it today. If you prefer to pay more then you can sign up later too but only get 1-week free.
As an added bonus, when you sign up through our links & banners it generates a referral credit for our site and helps keep us running. It doesn't cost you anything extra to sign-up through our links but it's a huge help to us and greatly appreciated. Thank you!
With All Access you'll be able to watch the new Big Brother Over The Top and that's your only place to find it because it won't be on TV. This new season will be entirely on the Live Feeds with unblocked competitions and events. Once a week, Wednesday nights at 10PM ET (7PM PT) there will be a live eviction show on the Feeds in All Access. So it's a regular concept series, but no broadcast episodes.
If you're already a Big Brother Feedster then this will be close to a regular kind of season but with a lot of extras. If you're new to watching Big Brother online then get ready because Feeds are awesome and really the best way to experience the show anyway.
Don't worry about having to watch this on your computer either. It's very easy to watch on your TV with a streaming device like Apple TV, Roku, Amazon Fire TV, and a lot of other devices including streaming from your phone cast to your TV. Read our full length article explaining how to get these methods set up and going.
Remember the promo code expires today and then the free trial drops to just 1-week, which isn't bad, but four times more is better. Then the new season of BBOTT starts a week from Wednesday and our coverage will be just as strong for this fall season as it is each month. Some might call that insanity, but we're just really dedicated to our readers!