It was Day 2 for the Big Brother cast on CBS's "Bold & Beautiful" today as their Halloween party at the fictional Bikini Bar continued and the HGs were actually showcased with dialogue!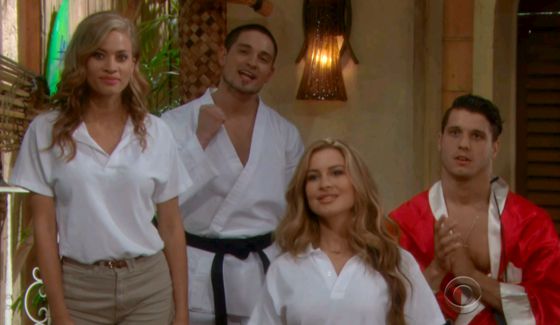 Zach was HHoH (Head Honcho of Halloween) and got to toss in a "but first" along the way as he awarded Haycole second place in the Halloween contests. Cody was quick to point out he knew how that felt. Heh.
Donny was back too with a lot of costume changes today including surgeon, secret agent, and a professor. Caleb and Devin each had a few lines as they competed in the day's events. Of course we got to see Caleb go Beast Mode with some Judy Chops for good measure, but he's probably just happy he got to stand near Amber for another scene.
We've got a bunch of screengrabs from today's episode featuring the Big Brother Houseguests on 'The Bold & The Beautiful.' Check them out below and let us know if you think any of them might have a future in showbiz!
click images to see full-size views