The Big Brother 16 cast made its scripted television debut today with eight Houseguests from this season plus a handful of past year's familiar faces on CBS's "Bold & Beautiful." We snapped some pics from their fun and have gathered them here along with details of their scenes.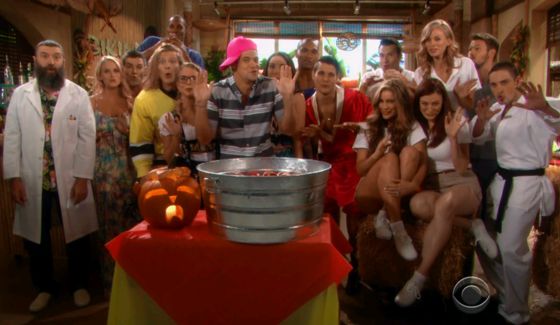 There were lots of joke references to Big Brother topics like Donny Thompson's scene where he mentions "the jury is still out" and having some houseguests visiting him. You could tell Donny was feeling nervous, but I don't blame him! He handled his office scene well and really got the most screen time of any of the HGs, so good for him on that.
Once the storyline took us to the Bikini Bar we found a lot more Houseguests having fun. Jeff & Jordan were at the bar celebrating their engagement, which took place in Jordan's big brother's back yard, she says. Brendan is bartending while Elissa, Rachel, and Amber Borzotra are serving drinks.
Enjoying in the fun of the Halloween themed party we saw Zach Rance playing some corn hole, Caleb Reynolds & Cody Calafiore carving a pumpkin, and Devin Shepherd was showing off his muscles touting around a keg (don't get the BB Kegger comp this season). We got to see Nicole and Hayden together along with Zach reprising his "ya Froot Loop Dingus" line to Nicole after she bumps in to him.
See all of our pics of the Big Brother cast from Thursday's episode in the gallery below.
click images to see full-size views
The Big Brother cast will be back on Friday's show for more scenes and we'll be looking forward to seeing what they pull off. Did you see today's show? What did you think of their acting debut?