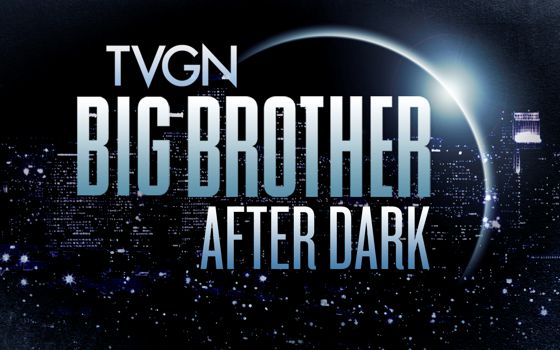 Last night Big Brother After Dark made its BB15 debut on its new home with TVGN after numerous seasons on Showtime's SHO2. While the shift in channel may have surprised some viewers it was the apparent and seemingly frequent censor interruptions of Houseguest sailor-worthy conversations that caught us off-guard. Wait, this wasn't supposed to be happening. At least not according to what we thought we had learned in the weeks before.
During the preseason build-up there was a strong concern that the relocation of "After Dark" from SHO2 to TVGN would signal the end of BBAD's full view of Big Brother with an anticipation of censorship. To answer that question we turned to TVGN's Leslie Furuta, the Senior Vice President of Communications and Media Relations.
Ms. Furuta originally explained to me that while there would be some standard cable restrictions, there would be "literally no difference between "Big Brother: After Dark" on TVGN and past season of the show previously on SHO2." So what happened? What we watched last night was actually much different from any BBAD we had seen before.
We returned to Furuta today with questions and this time we received a different explanation. "[TVGN isn't] going to wholesale edit out anything that's happening in the house such that fans miss any storylines or context for the interactions between the house guests," she explained. In other words, yes TVGN will censor words and events, but attempt to do so in a way to avoid disrupting the storyline.
Side note: According to RealityBlurred's research, "as a cable network, TVGN is not bound by FCC content rules regarding indecent and profane content, which includes bad language." This would suggest the decision was made by TVGN to optionally censor, rather than as a FCC requirement.
So did we misinterpret the initial response? Yes, it certainly would seem so. Something was certainly jumbled. BBAD is now censored and not at all what we told you to expect. Clearly there was a disconnect between being told "no difference," what we then relayed to you, and where we are now with the show.
Ultimately the final editorial decisions here are my own and my responsibility. I let you down and I apologize. Now in our sixth season of covering Big Brother here on BBN and as a fan of the series since its start I strive to provide the most accurate and useful information. This time I failed and I'm sorry for misinforming you.
What does this mean for "Big Brother: After Dark"? The spirit and purpose of the show remains the same: to give you access inside the Big Brother house and greater context to the game being played. Unfortunately it will be different this season and won't be afforded the same freedoms as BBAD previously had on SHO2.
As for what to expect, TVGN will be censoring nine words and "keeping our eye out for nudity." We suspect CBS has been steering away from the latter topic for awhile now as even the Feed cameras seem to have begun avoiding shower time and things of the sort, so I wouldn't get too hung up on that aspect.
TVGN has promised to continue to work to improve their censoring for improved accuracy and less extended dropouts. They ask for another chance as last night was their first attempt and admittedly heavy-handed on the bleep-button. They want to do better. Keep in mind though that this does not mean BBAD will eventually transition to an uncensored experience. This is the new lay of the land and should be expected to continue.
Big Brother fans disappointed by this end result should consider subscribing to the Live Feeds using the Free Trial to compare and test their options. TVGN is free and this move now offers BBAD to more fans, but for those who were willing to pay a premium in the past that option still exists today but with the Live Feeds now instead of Showtime.
One more side note. Viewers concerned by the lack of an HD channel for TVGN should remember BBAD has never been in HD. Even if the channel you used for SHO2 was the HD version, the actual content from within the house has always been SD. Playing SD on an HD channel does not change it from being SD.
Viewers interested in offering feedback are suggested to do so via Twitter with comments sent to @TVGN using #BBAD.