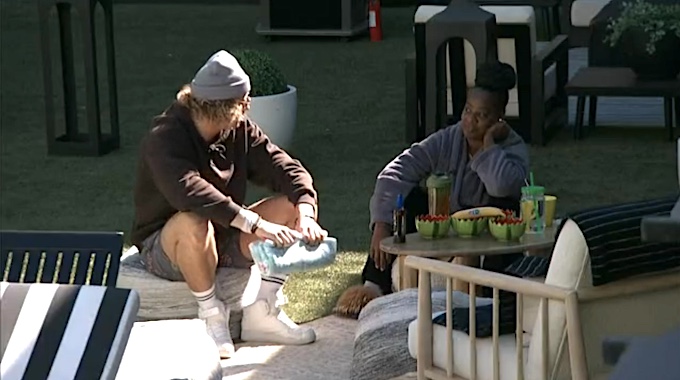 It is Veto Ceremony Day inside the Big Brother 25 house. We know that Matt is the Head of Household this week and he has nominated Cirie and Felicia for eviction for Week 13 of Big Brother. Mat had made it clear to Cirie that she would be safe this week and that Felicia was his target for the week. However, one of the Big Brother houseguests suggested they might want to shift the target this week. Read on to get all the details!
During his one-on-one conversations on Nomination Day, Matt implied to Felicia that his plan this week was to backdoor Bowie, but worst-case scenario, Cirie was his target. He then told Cirie that there might be a chance for Jag to be renominated if she or Felicia won the Veto and pulled themselves down, but if Jag should win the Veto, Felicia was his target. When Jag went on to win the Power of Veto on Saturday afternoon, Cirie assumed that Felicia was still the target this week and that she would be safe from eviction.
This would have been true if Jag hadn't suggested to Bowie that they should target Cirie because of how well she did in the Veto Competition this week. Once Bowie was on board with getting Cirie out and keeping Felicia in the house one more week, all they had to do was talk Matt into the idea, which wasn't hard to accomplish.
After pointing out how well Cirie did in the Veto Competition, Jag was able to convince Matt that there was a possibility that Cirie had been downplaying and throwing competitions all season. Therefore, they aren't sure what her full potential in the comps is and she might end up being harder to beat in next week's Head of Household and Veto Competitions leaving their F3 in danger of losing one of their own.
Matt was completely on board with the target being shifted but is continuing to tell Cirie that she is good this week and that Felicia is the target. Felicia has been acting pretty comfortable since the Veto Competition played out which had Cirie a little nervous about how the votes might be going.
Matt, Jag, and Bowie have decided to keep Cirie in the dark until after the Veto Ceremony plays out. With the formalization of their F3, The Mafia, Jag, Bowie, and Matt have all agreed that the Power of Veto will not be used this week. This means that Cirie and Felicia will be the final noms going into Thursday's eviction.
Stay tuned for confirmation of this later on Monday. In the meantime, let us know what you think of the current plan in the comments below!
Download our Big Brother App, join us on Facebook & Twitter, and get our Email Updates for more!