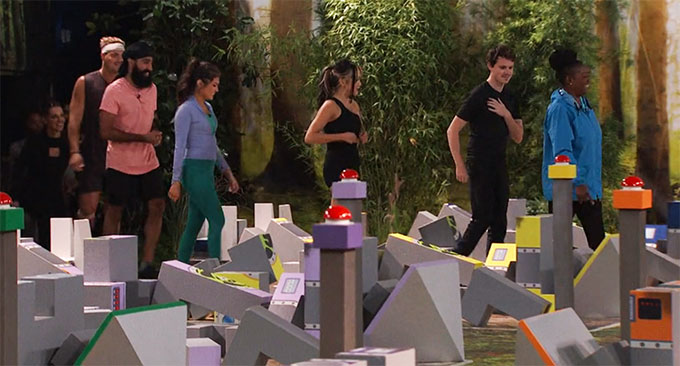 Depending on what part of social media you're on, Cameron's return to the game has contributed to his increasing popularity as he once again sits at the top of our popularity poll results. But over on Twitter, fans don't share that sentiment.
Let's take a look at how the players are being ranked based on popularity this week. Let's start with our own poll's latest results.
Big Brother Network Popularity Poll Results
1 Cameron
2 Cory
3 Matt
4 Cirie
5 America
6 Jag
7 Mecole
8 Jared
9 Bowie
10 Felicia
11 Blue
12 Reilly
13 Red
14 Izzy
15 Hisam
16 Kirsten
Our readers seem to really be into the Cameron storyline. Cory drops to No. 2 and Matt holds up the third place spot. The lowest ranked houseguest still in the game is Blue.
On Twitter, BigBrotherJunkie's most recent results look a little bit different. Here are those results:
1 America
2 Cirie
3 Cory
4 Mecole
5 Felicia
6 Blue
7 Matt
8 Bowie
9 Jag
That poll excluded Jared and Cameron, because they were zombies at that time, but Cameron will rejoin their poll this week. I thought it was a bit perplexing that Jag was in last place there. Not sure what Twitter's issue is currently with Jag.
And over at Jokers Updates, they've shifted once again. That poll has been all over the place, and while Twitter is apparently currently not on Team Jag and Matt, Jokes is. Here are those most recent results:
1 Matt
2 America
3 Jag
4 Cory
5 Reilly
6 Cameron
7 Bowie
8 Kirsten
9 Mecole
10 Red
11 Cirie
12 Felicia
13 Hisam
14 Izzy
15 Luke
16 Blue
17 Jared
It's pretty remarkable how mixed the Big Brother fanbase is this season. For a bit everyone was on the same page, but like the BB25 house we go from united to divided and back again three times a day, it seems.
Let's see how you're feeling about the Big Brother 25 houseguests this week. Let us know who you love the most in our poll below.