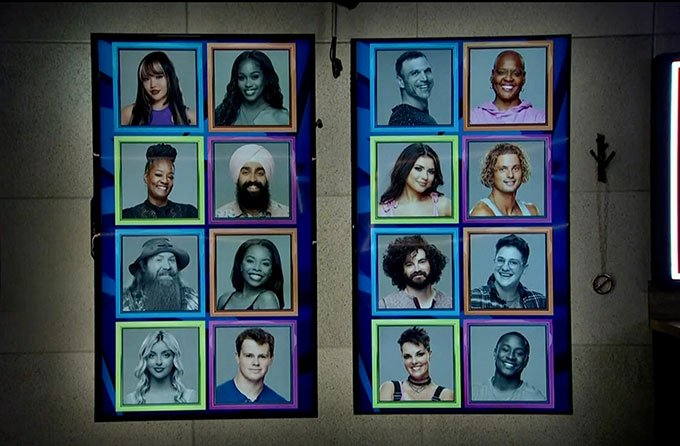 Once again, depending on what part of Big Brother 25 social media you're lurking around, you might be surprised to see which BB15 houseguests are resonating the most with fans.
In our own most current poll results, we have to main camps: The Cameron fans and the Cory fans who sometimes swap with the Matt fans. And then the Cirie fans still hold strong to keep her in the top four or five spots in our poll. This week Cameron was once again on top with Cory in second place. Bowie Jane is the lowest ranked player still in the game.
1 Cameron
2 Cory
3 Matt
4 Cirie
5 America
6 Jag
7 Mecole
8 Blue
9 Felicia
10 Bowie Jane
11 Reilly
12 Izzy
13 Hisam
14 Jared
15 Red
16 Kirsten
On Twitter, Big Brother Junkie's latest results look a lot like they have for many weeks now. America is in the top spot, but this week Cirie – instead of Cory – is in the second spot. There has been a bit of a war going on on Twitter between the America/Cory fans and the Cirie fans. It looks like the Cirie fans are stepping up their game. And at the bottom, like every other week is Cameron. It's remarkable how different views are based on how much you follow BB social media and the live feeds. Cameron seems to be a favorite among the non-feeds watchers for sure. Here are there most recent results:
BB Junkie
1 America
2 Cirie
3 Cory
4 Mecole
5 Felicia
6 Blue
7 Matt
8 Jag
9 Bowie Jane
10 Cameron
And then we have Jokers Updates. They're always all over the place, and the fact the Reilly is still up in the top 5 is in indication that the voting there might be a bit skewed. You can rank people low or high just to get the results you like. But we still keep an eye on those results because it's always fascinating. Below are their most recent results:
1 America
2 Cory
3 Reilly
4 Matt
5 Cameron
6 Jag
7 Bowie Jane
8 Kirsten
9 Cirie
10 Red
11 Felicia
12 Mecole
13 Hisam
14 Izzy
15 Luke
15 Blue
17Jared
Now it's time to choose your favorite Big Brother 25 player this week. Take our poll below to let us know!