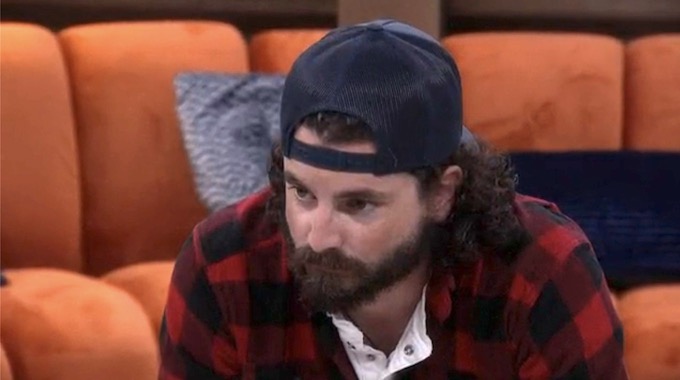 We have officially kicked off Week 6 of Big Brother 25 with Cameron as the new Head of Household and as we saw Thursday night, his fellow houseguests are thrilled about it! Everyone is walking on eggshells inside the Big Brother house with Cameron in the HOH room. Cameron has confided in Bowie as to who his target is this week and has already put the bug in another houseguest's ear that they will likely be a pawn this week.
As soon as the feeds came back up after Thursday night's live eviction aired on the West Coast, we saw Cameron telling Bowie Jane that Jag has to go this week. He also confirmed with her that he would not be putting Felicia on the block even though half of the house planned to pitch Felicia as an option.
Cameron had a lengthy conversation with Blue in the HOH room Thursday night where he warned her that she would be on the block as a pawn this week. Blue tried to tell Cameron that if she won HOH, she was planning on going for a big target to help her resume. Cameron tells her that if everyone wants to play a shock and awe game, he can too.
Blue put on an award-winning performance and started to cry when she realized that Cameron was putting her on the block. Cameron tells her that they are going to need each other really soon and reassures her that she is going to be fine this week. Blue expressed her concerns about Jag winning Veto and her sitting next to anyone else. She said that she doesn't feel safe sitting next to anyone.
Blue also made it clear to Cameron that she has noticed he only needs her when he isn't HOH. She added that they should be working together and that she feels disposable to him since this will be the second time he puts her on the block. He tells her that this move will only last a few days and he needs her to act like she doesn't like him for it. She tells him that he is well on the way to her not liking him.
Based on chats inside the house thus far, it looks like we could be seeing a repeat of Week 4 where he nominates Jag and Blue. If one of them wins Veto and takes themself off the block, it looks like America is the renom option, but he made it clear to Bowie that wants either Jag or Blue to go this week.
Download our Big Brother App, join us on Facebook & Twitter, and get our Email Updates for more!