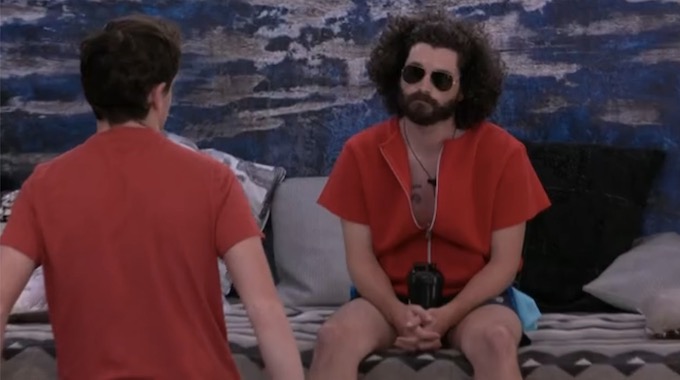 Update: Results are in! Get the spoilers on who won Veto this week…
The Head of Household for Week 5 of Big Brother set their nominations on Friday which means that it all comes down to Saturday's Power of Veto Competition! Right now, the Big Brother houseguests are just trying to keep this week's target comfortable by feeding them reasons why their blockmate would be a better option for this week's eviction. Read on to find out who is playing and what each of their plans are if they win this week's Power of Veto Competition!
Jared won this week's Head of Household Competition on Big Brother 25 and has nominated Cameron and Red for eviction. His target is Cameron, however, he has been making Cameron feel like he is the pawn in this situation. He has also informed Red that he really is the pawn and filled him in on how Cameron threw Red under the bus after Thursday night's Head of Household Competition.
Thursday night, shortly after Jared won HOH for the week, Cameron went to him and told him that he was looking forward to having the week off the block this week. Adding that he knows that he will likely have to go up against Jared's target and that he understands while gesturing toward the Comic Room, where his biggest ally in the house sleeps.
Yesterday while doing his one-on-one conversations, Jared let Cameron know that Red was definitely going on the block and explained that he didn't like the way that he talked about the other houseguests. He added that it hasn't gone unnoticed by the house either and Red seems to be their target as well. The biggest flaw in Jared's gameplay at this point was that instead of letting Cameron know that he was putting him on the block next to his friend to prevent him from saving him in the event that he won POV, he asked Cameron how he felt about being put on the block.
As you can imagine, Cameron immediately protested this idea and started to throw America and Izzy under the bus as possibilities for a second nominee. In the end, Cameron didn't get his way and he was put up next to Red. Now it all comes down to the Power of Veto! Let's find out who's playing and what the plan will look like for each of them.
Power of Veto Players for Week 5:
Jared (HOH)
Cameron and Red (Noms)
America, Matt, and Felicia
If Jared wins the POV, he will keep his nominations the same and Cameron will likely be voted out on Thursday night. If Cameron wins, Bowie will likely become a renom option which means Red will meet Julie on Thursday night. If Red wins, Bowie will again be the likely choice for renom and Cameron will walk out the door on Eviction Night.
Jared and Cory had a heated discussion after the player pick took place because America has admittedly been throwing comps all season. Jared made it very clear to Cory that if she throws this competition, she is going on the block as a replacement nom. If she were to play and win this comp, she would keep the noms the same. If Matt wins, he will likely go along with Jared's plan for the week and so will Felicia.
With all that being said, the only one who can save Cameron this week is Cameron. Depending on how Jared perceives America's performance in the Power of Veto Competition, she could also find herself in trouble. Unless, of course, Cory can steer him in a different direction, but he'll have to do it carefully or he might find himself with a target on his back.
Who do you hope wins this week's Power of Veto Competition?
Download our Big Brother App, join us on Facebook & Twitter, and get our Email Updates for more!