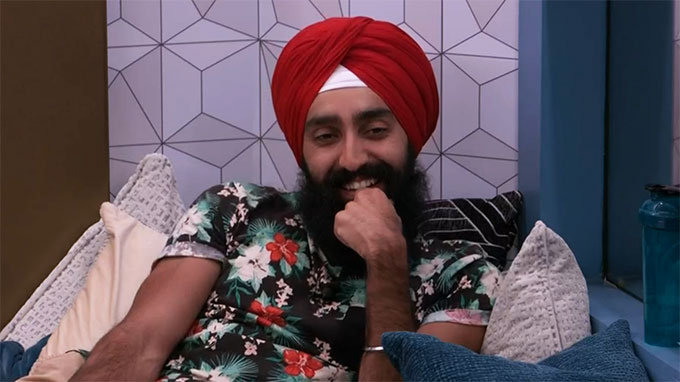 The closer they get to Thursday night, the more the Big Brother 25 houseguests plan and strategize. After a couple of quiet days, everyone is getting back into game mode. Cameron and Jared are working hard to position themselves back in the game, knowing one of them will return for real on Thursday night.
Meanwhile, everyone else is trying to figure out who Cameron would go after if he stays and wins HOH. It seems most people are expecting it to just be Cameron who wins and returns. Jag and Matt are the only two people who really know Cameron's plan, though, as they've formed what seems to be a pretty solid alliance. Read on to get all the details from some of the most important conversations inside the BB25 house Tuesday night.
Try Live Feeds 1 Month Free! Code: BIGBROTHER25 Sign-up now!
Don't forget to sign up for the Big Brother Live Feeds right now so you don't miss anything else this season. Anything you want to watch from our Highlights report is always available using the rewind feature to pick any day, time, and camera to watch it again. Enjoy!
Read up on Tuesday's Daytime Highlights report before moving on to overnight.
Big Brother 25 Live Feed Highlights – Tuesday, September 26, 2023:
3:27 PM BBT – Jag tells Bowie Jane that if Jared does stay, it'll be good for her that she's close with Blue. He says Blue can help keep Bowie out of Jared's crosshairs. Jag, Matt and Bowie agree they feel really good about Cameron if he's the one who gets to come back. They all say they're ready to move forward with Cameron.

3:43 PM BBT – Jag tells Jared everyone is scurrying around trying to make Matt and Jag at the front of the target list.

3:44 PM BBT – Jared says to Jag that Felicia has been on an apology tour to him. Then he says he wants to "fry her ass."

4:30 PM BBT – Cory says he kind of liked having a whole week to do damage control after his HOH win.

4:45 PM BBT – Housgeusts are cooking, getting ready for dinner.

4:57 PM BBT – Jag tells Matt and Bowie that he doesn't think Cory, America, Blue or Cirie would put any of the three of them up. He says they have to worry about Felicia and Mecole.

5:19 PM BBT – Jared tells Cirie that Felicia tried to make a final four with Cory, America and Mecole. Jared says so Felicia is still being sketchy. Cirie asks if they accepted the offer. He says well, they told Blue, so they didn't take the offer seriously.

5:20 PM BBT – Jared says that Cameron is getting nervous about the competition Thursday. Jared tells Cirie he really wants Cameron to lose so he can stay. He says he wants to stay so badly.

5:35 PM BBT – It's dinnertime for the houseguests.

5:52 PM BBT – Matt asks Cameron how things are going. Cameron says he wants to work with America but he told her that he knows he can't trust her to not tell people everything he says. Matt tells Cameron that Cory was worried about Cameron yesterday but today he said he feels better. Cameron says he had a conversation with Cory, so that's why he feels better about him now.

5:54 PM BBT – Matt tells Cameron that he thinks America is just letting Cory do all the work for her. Matt says Cory is talking to everyone, trying to get on their good sides.

5:55 PM BBT – Cameron tells Matt that Cory's trying to make Matt and Jag look like the bad guys to deflect people from himself. Cameron says Cory has to go, "not today, not tomorrow," but he has to go. Cameron says Felicia has to go first though.

5:56 PM BBT – Cameron says he's making sure he hangs out with America and Cory more than Matt and Jag so no one suspects they're working together. Matt says that's the best thing he can do to keep people off their scent.

5:57 PM BBT – America tells Jag that everyone sees him and Matt as a duo and herself and Cory as a duo and there's nothing they can do to change that.

5:58 PM BBT – Matt tells Cameron that he sees Felicia and Mecole making their rounds. He says they must be worried they're in danger.

6:22 PM BBT – Cirie appears to be sleeping sitting up in the living room. Blue and America are playing bumper pool.

6:43 PM BBT – Jared tells Cirie that Matt told him that there are people in the house who have not been playing but have been working to pit them against each other.

6:44 PM BBT – Jared says America thinks that the zombie competition is going to be really hard. Cirie says she hopes that Cameron gets too scared to play and lets Jared play. Jared says he does't think that's happening, but if Cameron gets nervous he might just lose.

6:45 PM BBT – Cirie tells Jared that she's so proud of him and thinks he's made a lot of headway since coming back in the house. She says he's positioned himself well.

6:46 PM BBT – Jared asks Cirie who she would put up. She says she's been struggling with that which is why she doesn't know if she wants to win. She tells him she told Cory and America she wouldn't put them up. Jared tells her she should go after Cory, Matt and Jag.

6:49 PM BBT – Jared tells Cirie that he doesn't know if it's smart to play it safe at this point. He says there are too few people, so the only moves to make are big ones. Cirie wonders if people are thinking about taking Bowie to the end because she would be easy to beat. Jared says Bowie does have the loyalty angle going for her.

7:27 PM BBT – Blue assures Cirie that she (Cirie) isn't anyone's immediate target.

8:20 PM BBT – America tells Matt that Felicia is feeling the pressure. She says she knows that she doesn't have as many people in her corner as she once did.

8:39 PM BBT – Felicia and Blue talk about what Cameron might do if he stays and wins HOH. She says he might put up Jag and Matt or he might decide to keep them. She says he might do Cory, but not America, so the question is who would he put up next to Cory. Felicia says in 56 days she's never talked strategy with Cameron. Blue says she hasn't either and she's not about to start now. Felicia says she feels the same way.

8:45 PM BBT – Cirie, Matt, and Meme join Blue and Felicia in the living room. They are chatting about the food treats they received.

9:00 PM BBT – America and Cameron chatting about life back home.

10:15 PM BBT – Jag and Meme ask America if she thinks her and Cory will be a thing after the show. She doesn't and says they plan to just be friends after. They're surprised that there isn't much romantic or personal talk between them.

10:20 PM BBT – America says that Cory told Cameron he didn't care if Cameron flirted with America and that disappointed her.

10:25 PM BBT – Cameron tells Jared he could remain hopeful. Cameron hopes he gets to see the comp before deciding whether or not he wants to battle in it.

11:30 PM BBT – HGs lounging and chatting.

11:35 PM BBT – America warns Jag that Cameron says things he's told her are already getting back to him. America wants to avoid a large 7-person alliance again and instead they could just have their core four plus an extra on the side instead of altogether.

11:40 PM BBT – America, Bowie, Cory, and Jag debate what Felicia might do if she won HOH. America expects it'll be Jag and Matt but Cory thinks Felicia would go for Cameron instead. Jag suggests they just try to align with Felicia now to cover that base.

12:00 AM BBT – Jag says he'll talk to Meme about another alliance with him, her, Matt, and Felicia. Then they'd add on Cory and America.

12:15 AM BBT – Cory and America talking along. She wants to discuss about Cameron flirting with her. America worries she's being used. Cory says he really likes her and doesn't want her to feel used and he isn't playing her.

12:30 AM BBT – Matt talks with Blue and updates her on America wants Felicia, Meme, and then Cirie out. Matt says he didn't try to protect Cirie because he's in deep with America. Blue says they need to meet up again with Cameron.

12:40 AM BBT – Jag arrived and Blue tells him that Cory mentioned his name.

12:45 AM BBT – Meme and Blue talk upstairs in the Lounge. Meme wants Jared to stay because she trusts him more than Cameron. Blue thinks Jared might have a chance at staying. Blue says she'll be fighting for HOH and had already promised Felicia safety this week if she got HOH.

12:50 AM BBT – Bowie chatting with Cameron in the Scary room. Bowie thinks he's doing a great job with his social game. Cameron tells Bowie she's his one.

1:20 AM BBT – America, Cory, and Jag are up making late night snacks.

2:00 AM BBT – Matt has joined the kitchen snackers. Blue and Meme are still upstairs talking quietly in the Lounge.

2:30 AM BBT – Cory and America head to bed. Blue comes downstairs and talks with Jag and Matt. Blue expects Meme is going to throw the HOH comp. She also expects Mecole to have her own target, separate from Felicia's.

3:00 AM BBT – HGs are off to bed.
One more full day of the HGs waiting out this BB Zombie twist and then we're back to the regular routine of Big Brother events. For now many of the HGs are trying to find new footing as the game prepares to start moving again but then you've got America and Cory getting dragged down in their showmance instead.
You can watch all of these Big Brother events using the archives Flashback, the DVR-like feature of this year's Live Feeds which means it's always live, even when you missed it! Sign-up now and get the free trial to watch it all live & uncensored.

Gallery: Live Feeds Highlights
Download our Big Brother App and join us on Facebook & Twitter for more!