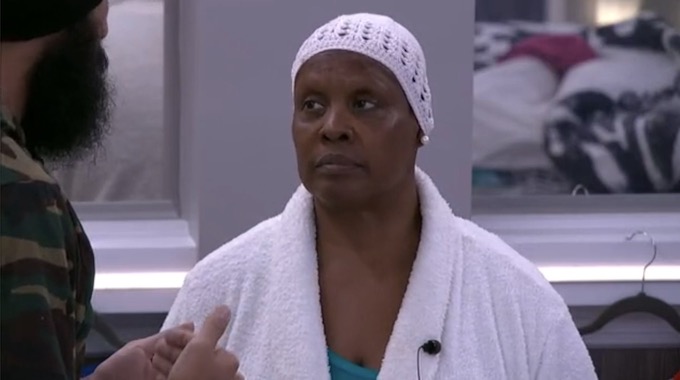 Eviction Eve brought on more campaigning inside the Big Brother 25 house, but only from one of the two nominees. One of the nominees has been reassured by Cameron that they are safe this week and therefore hasn't said anything of their fellow Big Brother houseguests. This is not sitting well with some of the houseguests, but is it enough to sway the votes on eviction night?
Jag has been trying his hardest to earn Cirie, Felicia, Izzy, and Jared's votes this week on Big Brother. His hope is that the four of them along with Mecole and Matt will vote to keep him and has been pitching to them that he would be a shield for them in the house. However, they are worried about rocking the boat this week and turning Red, Cameron, and Bowie against them right before Thursday night's Head of Household competition.
Try Live Feeds 1 Month Free! Code: BIGBROTHER25 Sign-up now!
Don't forget to sign up for the Big Brother Live Feeds right now so you don't miss anything else this season. Anything you want to watch from our Highlights report is always available using the rewind feature to pick any day, time, and camera to watch it again. Enjoy!
Big Brother 25 Live Feed Highlights – Wednesday, August 30, 2023:
7:20 AM BBT – Cirie and Felicia are both up and making their way to the bathroom for their morning chat.

7:25 AM BBT – Cirie and Felicia are laughing about how Bowie went to console Jag yesterday. They both hope that Cameron doesn't have the power.

9:20 AM BBT – Izzy, Cirie, and Felicia are trying to figure out what the power is and how it's going to work. Izzy doesn't think that it's going to be as simple as taking someone off the block and replacing them. She wonders if it will somehow cancel the eviction. She says she hopes it happens this week and ruins Cameron's HOH.

9:25 AM BBT – Red is up now. Conversations shift to general chats.

9:43 AM BBT – HGs are waking up.

10:18 AM BBT – Cory tells Izzy that he doesn't think that voting Blue out this week would be a good look and it would upset Jared. Adds that Jared is too important to them. Izzy says that she has entertained keeping Jag, but she doesn't think that it's the right move.

10:24 AM BBT – Izzy tells Cory that there are more arguments for Blue staying than Jag right now. Cory asks "do you think I should try to do anything with this super power…" feeds cut to the kitchen.

10:30 AM BBT – Cams go back to Izzy and Cory's conversation, they are talking about their 7, Blue and Matt. Izzy mentions maybe Bowie too, but Cory says he doesn't feel comfortable with Bowie in the house. He thinks that she has been talking to Cameron and Red about Izzy all week though.

10:33 AM BBT – Jag tells Felicia that Cory and America want him to stay this week and Cory told him that he should talk to Felicia, Izzy, Cirie, and Mecole and try and get their votes.

10:41 AM BBT – Cory says that he is nervous about Felicia because even though she might not be a threat in a competition, it's going to get harder to get her out later. He wonders if they let America or Blue win and target her. Izzy says that if she were to win HOH and the time was right, she would take the shot. They agree she would be a great Double Eviction option.

10:44 AM BBT – Jag tells Felicia that the best argument he has for him staying this week is that for as long as the Jag vs Cameron/Red is going on, the longer everyone else is good.

11:15 AM BBT – Cory, Jared, and Izzy are speculating who will take a shot at who in F8. Meanwhile, Jag, Felicia, Cirie, Bowie, and Matt are in the Comic Room speculating on the power and how long it might last for.

11:20 AM BBT – Jared leaves the conversation and Cory and Izzy continue to talk. Cory says that what makes him nervous is that he has seen this show so much and players like Bowie slip through the cracks. Izzy says she isn't slipping through the cracks.

11:28 AM BBT – Jared tells Cory they have to get Blue passed this week and adds that he really doesn't think that people are 100% sold on her staying this week. Cory says by people, you mean her (pointing to where Izzy was sitting) and Jared says not necessarily her, Felicia and Mecole too. Cory says if they can convince Izzy and Cirie, then Mecole and Felicia won't vote against them.

11:30 AM BBT – Jared tells Cory that Jag made his pitch about being a shield, but he shut it down and told him that if Cameron, Red, and Bowie are sold on him going this week, that puts a target on him and anyone who voted to keep him.

11:42 AM BBT – Jag is talking to Cirie and Felicia. He says that there is a high probability that Cory has the power and they can't rule out the chances of America having it.

11:43 AM BBT – Jag says that he was talking to Cory last night and he said that America really wants to keep Jag this week and Cory told him that they should talk to Izzy, Felicia, Cirie, and Mecole to see how they feel about the vote.

11:47 AM BBT – Mecole asks Jared how his talk with Cirie went yesterday and he said it went good. Says that he told her that he really needs them to be more certain about what their plan is because they are causing too much panic. Mecole asks if he talked to her about Izzy, he says he did without naming Izzy specifically. Told her that they need to be careful about who they are connecting themselves too.

11:50 AM BBT – Jag is continuing his campaign to Felicia and Cirie. Giving them the same speeches he has given everyone else about how he is gunning for the HOH and he is going to target Cameron and Red if he stays. He adds that he is a shield for them and he would fight for them.

11:57 AM BBT – Felicia and Cirie are explaining to Jag that he has to make this pitch to Mecole and added that she is a very rational thinker. He confirms that he played yesterday and wonders if he could use that to build trust. Felicia believes that if he told the people on their side that he played and didn't win, it would show them that he trusts them.

12:08 PM BBT – Cirie and Izzy confirm to each other that the plan is still to evict Jag this week. Izzy tells Cirie that Red, Cameron, Bowie, and Matt are all in the Comic Room talking about scenarios this week if the power is used. Izzy says that if it's something where someone gets pulled off and a replacement needs to go up, they are thinking Cory.

12:20 PM BBT – Jag told Jared that he got to play, but didn't win the power. Jared says that he isn't going to tell Blue because it isn't his business to tell, but he feels more comfortable with Jag telling the rest of the seven because they are the ones who are going to keep him. Jag asks Jared just to keep it to himself because he wants to be the one who tells them. He says he doesn't have to worry about that because it doesn't benefit him to go around telling people that.

12:23 PM BBT – Izzy and Felicia are talking with America about how Jag told America and Cory to talk to them about the vote. They are saying how this argument didn't work for Reilly, it's not going to work for him.

12:28 PM BBT – Cirie tells America and Izzy that Blue hasn't said anything to anyone since the nominations other than the fact that Cameron told her she was good. America has come to the conclusion that Blue doesn't have a strategy for this game. America adds that Blue told her that no one is going to put her on the block next to Jared. She thinks that Blue is getting a sense of security because Jag is a bigger threat.

12:40 PM BBT – Blue is telling Bowie that she really doesn't want to keep being associated as her showmance. She wants to be seen as an individual player. Bowie tells her that she doesn't think of her as her showmance and she knows that Blue has her own individual game that she is playing.

12:52 PM BBT – Jag tells Izzy that he thinks that Cory or America might have the power which could play to his advantage because they have both told him that they want Jag to stay this week. He thinks that they just need someone else to tell them they also want to keep Jag this week.

1:03 PM BBT – Izzy tells Jag that it really feels like Reilly 2.0 when it comes to Cory and America saying they want him to stay. He says that one thing he knows for sure is that they will vote with the majority, but he really believes them when they say that they want him to stay.

1:14 PM BBT – Blue is telling Jared that there is no way she would slip up on that one thing (I'm guessing the fact that his mom is in the house) because she knows how detrimental it would be not only for his game but for others in the house. She hopes that she could reassure him that she would never slip up on that.

1:15 PM BBT – Jared tells Blue that it kills him that she has yet to be impacted by something he has done in this game. He adds that the worse thing that she has gotten is guilt by association.

1:16 PM BBT – Izzy wonders to Matt and Cirie if America and Cory really told Jag that they wanted him to stay. Matt wonders if they save Jag and all vote the same, the other side will come after one of them next week. Izzy asks Matt if he believes that Cameron and Red would target Cory if the power allows them to.

1:40 PM BBT – Izzy and Felicia are talking to Jared about Jag. Izzy asks Jared how he is feeling and he says he is still thinking about it and that he isn't completely one way or the other yet. Felicia asks him what the pro is of keeping Blue and he says nothing, other than to keep Cameron and Red off alert. Says that no matter which one of them stays, if Red or Bowie win HOH, they are screwed.

2:15 PM BBT – General conversation going on right now.

2:19 PM BBT – Blue tells Jag that what sucks the most for her is if she does stay, her closest ally is gone. She says next in line would be Jared and America, but America is a target too. She says that she feels like it's so hard to think about her game when it's always being compromised. She doesn't know what to do if she stays.

2:22 PM BBT – Cory and Cirie are talking about how Red is swearing on his kids that he didn't even play. Cory says that if it isn't Red, then it has to be Matt. He thinks that Jag and Felicia definitely got to play.

2:24 PM BBT – Cirie tells Cory that she wouldn't feel confident enough to use the power on her own if she had it. They both agree that regardless of whether Cameron or Red have it, they have to flush it out.

2:37 PM BBT – Blue tells Jag that Cameron literally blew up his whole game by making this move. He was good with so many people and now he has two people. Says her biggest regret is letting Cameron think that he runs this game. Jag says he knew in his gut not to trust him.

2:43 PM BBT – Jared, Cirie, Izzy, and Cory are talking in the HN room about the day that Red approached him about telling Blue about her lying to him. Jared tells them that he never said that to him and by the end of the conversation Red was considering that maybe he misremembered who he said it too.

2:46 PM BBT – Cory says that he thinks that Jag is better for their game in the immediate future, but he's going to be harder to get rid of later down the line. They all agree that Jag is the one who should be evicted this week.

2:49 PM BBT – Cirie tells Jared, Izzy, and Cory that Blue campaigned more for Reilly than she has for herself. Cory says that she feels like it's going to be unanimous, like Cameron last week. Cirie says that Jag has been campaigning hard and the least she could have done is say something. Jared is also curious why Mecole was the only person Blue did talk to.

2:55 PM BBT – Jag is campaigning to Mecole now. Reiterating everything he has already told everyone else. That if he stays, he will stay the target, and that it isn't garaunteed that Blue will hit the block again.

3:00 PM BBT – Jag tells Mecole that America and Cory want to keep him but the numbers have to be there for them to vote for him to stay.
There seems to be some trouble in paradise between Blue and Jared, although it's unclear what is causing the rift. Blue has tried to reassure Jared that even though she slipped up with one thing, she knows how important it is to keep his secret to herself. Meanwhile, she hasn't done any campaigning to anyone in the house and that doesn't seem to be sitting well with Cirie, but it doesn't seem to be enough to sway her toward voting Blue out this week. As of now, the plan is for Jag to be evicted from the Big Brother house on Thursday night, but knowing this group, they will flip-flop at least a few more times before the live eviction show.
You can watch all of these Big Brother events using the archives Flashback, the DVR-like feature of this year's Live Feeds which means it's always live, even when you missed it! Sign-up now and get the free trial to watch it all live & uncensored.

Gallery: Live Feeds Highlights
Download our Big Brother App, join us on Facebook & Twitter, and get our Email Updates for more!