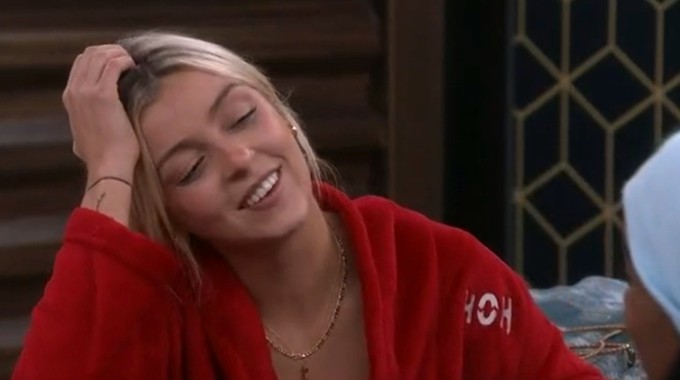 Veto Day arrived for the Big Brother Houseguests as the first of the season and left the obvious target with another chance to evade eviction. Beyond this it'd be down to smooth talking with her fellow Big Brother 25 HGs for a shot at Week 2!
Once the PoV results were back the house was ready to move on to Monday's Veto meeting. Well, maybe just a stop or two along Paranoia Drive before we get there?
Read on to find out what Houseguests were up to on Saturday in the Big Brother 25 house.
Try Live Feeds 1 Month Free! Code: BIGBROTHER25 Sign-up now!
Don't forget to sign up for the Big Brother Live Feeds right now so you don't miss anything else this season. Anything you want to watch from our Highlights report is always available using the rewind feature to pick any day, time, and camera to watch it again. Enjoy!
Big Brother 25 Live Feed Highlights – Saturday, August 5, 2023:
5:00 AM BBT – Cirie and Izzy are up very early. Red joins them. The three discuss forming a group of six to also include Bowie, Felicia, and Hisam.

8:15 AM BBT – Jared reports back to Izzy about the other side trying to form an alliance of eight. Izzy says she wants to get to the end with him and Cirie without telling anyone that she knew they were related.

8:40 AM BBT – Red tells Hisam he wants to have a four-person alliance with Cirie and Izzy.

9:40 AM BBT – Feeds are back from picking Veto players.

10:45 AM BBT – Reilly talks with Cirie that the whole house seems to be on the same page with keeping the target as Kirsten this week.

10:50 AM BBT – Reilly mentions to Cirie that Luke might have to be her backup plan if Kirsten gets the Veto.

11:10 AM BBT – Izzy reassures Cirie that Reilly is good with them. Cirie questions why they aren't in Reilly's alliance of eight then.

11:35 AM BBT – Cirie tells Hisam they need to get Luke for the numbers. She's worried about the other side having eight members which makes Luke a pivot vote. Hisam is surprised to hear the other side is that large.

12:20 PM BBT – Cirie and Izzy working on Hisam about building their numbers over the other side. Cirie says she thinks they can pull in Jared and Hisam agrees with needing to do that.

1:04 PM BBT – Feeds have cut for the Veto comp.

4:07 PM BBT – Feeds are back from Veto. Hisam won the medallion.

4:20 PM BBT – Reilly, Jag, and Cory discuss that Hisam was a good win for them and should keep the noms the same since he knows Kirsten is the target this week.

4:25 PM BBT – After Cory leaves the room Jag and Reilly reaffirm they're working together.

5:05 PM BBT – Cirie is starting to get nervous. She heard from Izzy that Reilly threw the comp. Now Cirie fears Reilly is planning to backdoor her (C). She's telling Jared about this worry.

5:20 PM BBT – Jag and Reilly agree that they don't really trust Izzy, but both agree they trust Jared.

6:00 PM BBT – HGs starting to gather in the kitchen and working on dinner.

6:25 PM BBT – Cirie tells Izzy that she warned Felicia that if Hisam used the Veto on her (F) that Cirie would be in danger of getting backdoor'd.

6:30 PM BBT – Kirsten is getting her talk with Reilly. Reilly encourages Kirsten to keep up the fight and not give in.

7:00 PM BBT – Kirsten is still upstairs bending Reilly's ear, but seems unlikely to change anything.

7:15 PM BBT – Cirie has traded spots with Kirsten and is having her turn with Reilly.

7:18 PM BBT – Mecole tells Kirsten that she probably just said the wrong thing in front of the wrong person and that's what started this situation for her.

7:50 PM BBT – Izzy declares to Jared that she plans to steal Cory away from the other side.

8:00 PM BBT – Izzy pulls Cory aside and is working on him to join them.

8:55 PM BBT – Jared is coordinating with Izzy in the effort to recruit Cory over to them. He's talking with Cory now too. Cory tells Jared that he's a huge fan of Cirie.

9:25 PM BBT – BBB is meeting in the Comic Room. They think the other side sees them as unorganized. Hisam says she's been watching who gets called the most to the DR and who is gathering in the HOH room.

10:40 PM BBT – Jared talks with Reilly about the other side of the house. He says they won't be winning any comps and aren't a worry. Jared says he'll remain loyal to their eight.

11:15 PM BBT – The backyard has opened and the HGs celebrate its arrival. Felicia falls into the hot tub and drowns her mic pack.

11:55 PM BBT – Hisam talks with Red and wonders if HGs were upset that he won the Veto and if he had disrupted a backdoor plan.

12:40 AM BBT – Cirie and Bowie check-in. Cirie is worried that Izzy is imploding already.

1:30 AM BBT – Reilly and Cameron discuss if a former HG will come back and who it might be. Reilly really hopes it could be Janelle.

2:00 AM BBT – The house is winding down and HGs are off to bed.
Reilly got her wish with the Veto comp and it looks like Kirsten will be the first HG of Big Brother 25 to head out the door. The Veto meeting arrives on Monday to formalize that plan. Before that though we'll have the second episode of the season on Sunday night 8/7c.
You can watch all of these Big Brother events using the archives Flashback, the DVR-like feature of this year's Live Feeds which means it's always live, even when you missed it! Sign-up now and get the free trial to watch it all live & uncensored.

Gallery: Live Feeds Highlights
Download our Big Brother App and join us on Facebook & Twitter for more!