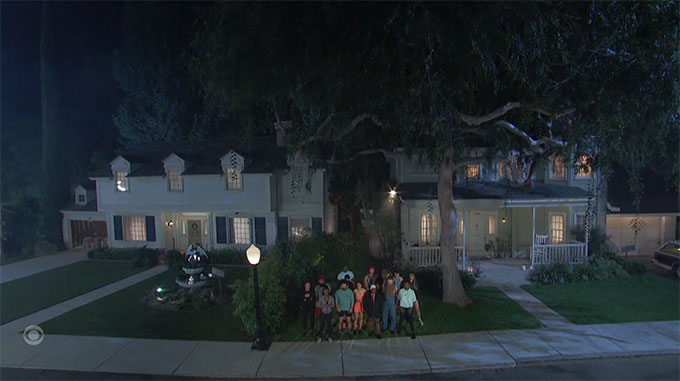 Big Brother 25 houseguests went missing from the house at the end of Thursday night's episode, and it turns out they some how ended up entering a portal in the back yard that zapped them off to the Nether Region. Who knew all this time the Nether Region was an abandoned set on the CBS Radford Studio lot.
Sunday night's episode picked up after Thursday night's episode ended and we found that the house was suddenly empty. Where did the houseguests go, Julie asks? Well, the Scary-verse kicked in so the players were swept off to the Nether Region. I don't want to spoil anyone's fun, but they were probably just all blindfolded and loaded into a van and driven to a soundstage for the HOH competition. 
It was actually really cool to see the players outside of the house and the back yard. The competition was set up around two prop houses and the houseguests basically had to sort of play a version of musical chairs. For each round, some clues would be delivered and the players would have to rush off to safe hiding spots. If players end up in the wrong hiding spot, they would be eliminated.
Before the competition started, Reilly was told to escape back to the house because she's the outgoing HOH. So the competition begins and Blue, Mecole and Cameron are out first. Jag, Matt, America, Cirie and Izzy are out next. Then Cory, Felicia, Red and Bowie are out.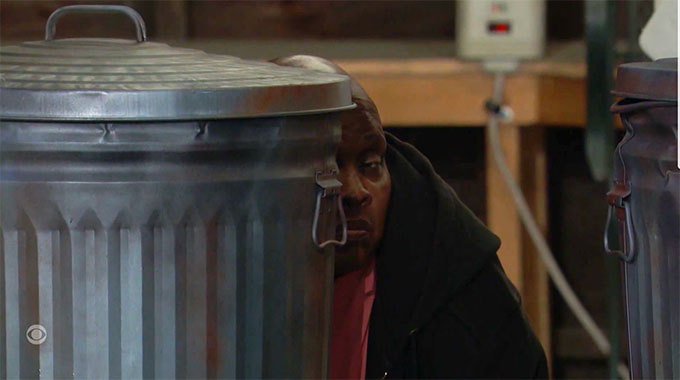 At this point, only Jared and Hisam remain. For this final round, the two of them have to listen to clues and decide with house to go into. Jared picks his house first, and is very confident he has won this competition. But Jared's key doesn't work and Hisam's does. So Hisam wins the competition and Jared is stuck in the Nether Reigon. Hisam enters the house and is teleported to the HOH room. And it turns out that Jared can only communicate through the Memory Wall from the Nether Region. No one knows exactly what that means. And Cirie is worried for him. 
The next day Jared shows back up on the Memory Wall and tells them that he hasn't been allowed to sleep. No one is sure when he will return or what all of this means. But the game must go on.
Hisam lets Felicia know that Matt and Cameron are on his list, but Reilly is his target. He knows that she was targeting him, so he's going to target her. That's as simple as Big Brother gets. 
Jared finally returns with a message from the Nether Region. The letter says more people will be pulled to the Nether Region this week and it could be good for them or it could be bad. Jared also has to pick one person to send to the Nether Region, making them safe from nominations this week. 
So Jared decides to have some conversations. Hisam tells him to send anyone but Reilly, Matt or Cameron. And Reilly is first to ask Jared to save her by sending her off. She actually begs him, but Jared knows that Hisam listed her as one of his potential targets. Jared tells Reilly to trust him and says that he doesn't think Hisam is going to go after her this week. She begs some more, but Jared keeps telling her to trust him. 
Then Cirie gets with Jared. They know this decision has to be strategic. It has to be someone from "Jared's side," but most of them are on Hisam's target list. So Cirie and Jared decide Jag might be the best choice.  So he chooses Jag. And Reilly is upset. Jag is upset too, but decides at least he is totally safe this week.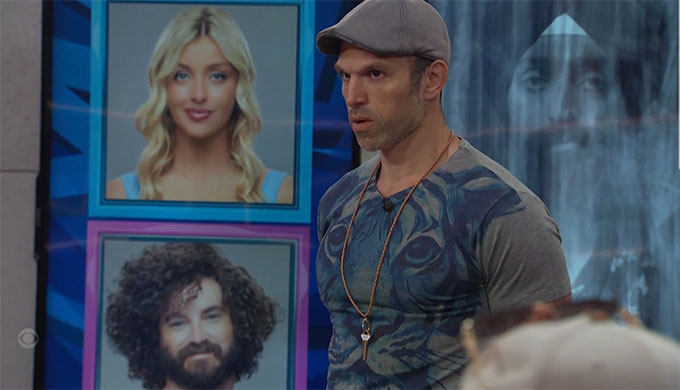 And at the nomination ceremony, to no one's surprise, Hisam nominates Reilly and Cameron for eviction.
Don't want to wait until Wednesday night to find out how the Power of Veto competition and ceremony played out this week? Check out our Spoilers to find out who will be on the block during this Thursday's live eviction episode.
Big Brother 25 Episode 5 Photo Gallery: A Trip To The Nether Region