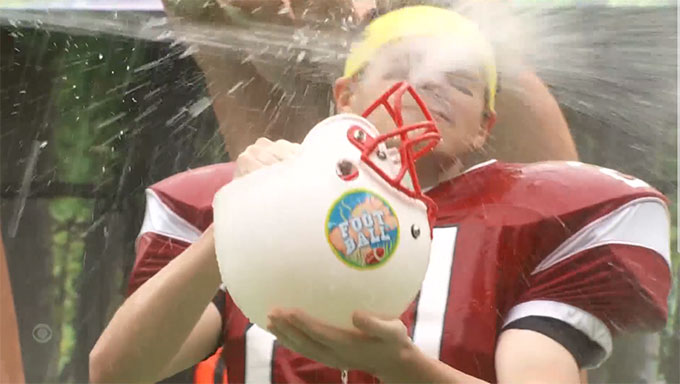 It was a sweaty veto competition for the Big Brother 25 houseguests as the plan to backdoor Cameron this week was at risk when he was chosen to play in the veto competition this week.
Wednesday night's episode picks up right after the nomination ceremony where Jared nominated Cory and America. But Jared lets us know that Cameron is still his No. 1 target. Jared doesn't trust that Cameron won't be coming after his mom. 
And Cameron lets us know that he has a feeling in his gut that tells him he could be a backdoor target. 
America checks in with Jared to see what he's thinking. Jared tells her that Cameron is his target. But of course America isn't sure she trusts him. But he goes on to tell every single person who checks in with him, including Cory, that Cameron is the target. Cameron just has to not win the Power of Veto. Then Cory or America will actually be in trouble this week, Jared lets us know. 
Mecole and Felicia have a talk about the vote last week and Mecole lets Felicia know that her closest allies didn't have her back last week. Felicia gets really upset over that and is ready to wash her hands with Cirie and Jared. But she and Mecole vow to protect each other and solidify a Final 2 deal. 
Meanwhile, Jag and Matt have a conversation with Blue who tells them that she wants to work with them over Jared. Blue tells us she will keep Jared close while she can, but ultimately she doesn't want a showmance to cost her $750,000. 
America and Cory are focusing on the veto, of course, and they decide the best idea would be to pick Jag to play for them if either of them gets houseguest choice. So let's see how the veto draw goes. 
Joining Jared, Cory and America are Bowie Jane, Jag (via Cory's houseguest choice) and Cameron. Uh-oh. Cameron can't be backdoored now. Not a true backdoor anyway. Always remember that if you play in the veto competition and get put on the block after, you technically aren't being backdoored in the Big Brother purist world. 
But Cameron can still be the replacement nominee and go home, so let's get to the veto competition and find out if that's possible.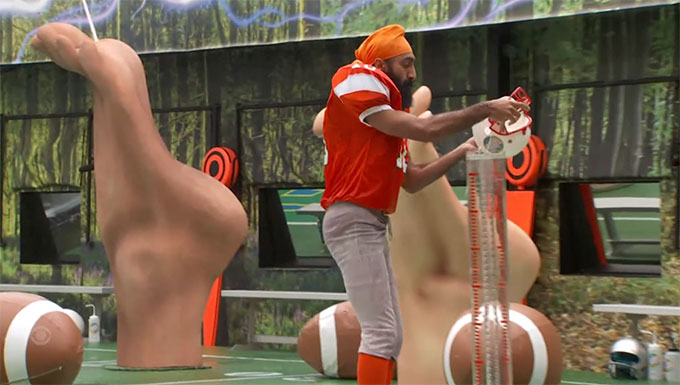 For this week's veto competition, the players will be playing individually. Each player will have to collect water in a football helmet and fill a tube to retrieve a football. It's similar to the classic slip and slide competition we clearly won't be seeing this season. So the person who does it in the fastest time wins the Power of Veto. Oh, and it wouldn't be Big Brother without some embarrassing stuff that makes me ashamed I watch. For this competition, they have to maneuver giant feet spraying out sweat. No joke. 
Let's find out the top 3 times. 
Jared – 6:00
Cameron – 5:22

 

Jag – 4:43
Jag wins the Power of Veto! And the door to send Cameron out this week just opened. 
But it won't stop Cameron from trying to talk to the house to work on staying. He tells Jag, Jared and Matt that once he's gone they're the next targets. He says he will be there hired gunslinger and "the smartest dude in the house is sitting on the block right now." 
No one is that interested in Cameron's pitch, though, because they've been trying to get him out for weeks. Now is their shot and might be their only shot. So let's get to the vet ceremony and find out. 
Jag decides to just the Power of Veto on Cory. And Jared, to no one's surprise, names Cameron as the replacement nominee.