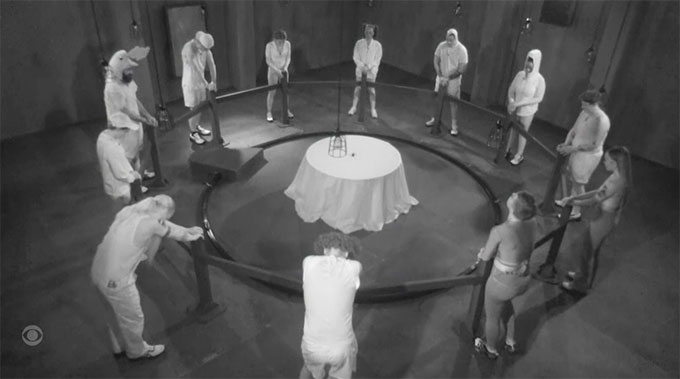 After 18 years of begging, Big Brother fans finally got to see the return of The Pressure Cooker competition. And the Big Brother 25 houseguests surprisingly didn't disappoint. And in true Pressure Cooker spirit, the final result wasn't what most fans wanted. So, really, we couldn't have asked for more.
Sunday night's episode picked up right after the start of Pressure Cooker competition. Most of the episode takes place in the Pressure Cooker, but we get little sidebars here and there. Like a rundown of all of Cirie's alliances. She, Izzy and Felicia are in a lot of alliances, where they're the only common dominator. So Cirie is covered all around. But will that ever come back to bite her? We'll see.
Then we get back to the Pressure Cooker. At the 1 hour 17 minute mark Jared is out. He picks the first punishment/reward card. It says "New Friends" And it unveils a den of snakes. Lame. Who still uses live animals in a TV show competition. Do better, Big Brother. And even before the Jared dust settles, Cirie lifrs her hands off at 1 hour 22 minutes in. She gets the second card. And it's a six-pack of beer. She and Jared have to sit and wait for a third person to be eliminated before they can go back inside. So they share a beer.
Time for another time out. This time it's America telling us that Cory is growing on her. She talks bout the flirtmance she and Cory have, but Cory is very unaware of how serious she is about liking him. He makes a funny joke about coming into the game thinking he'd just be the nerd, but now he could be  "America's Sweetheart."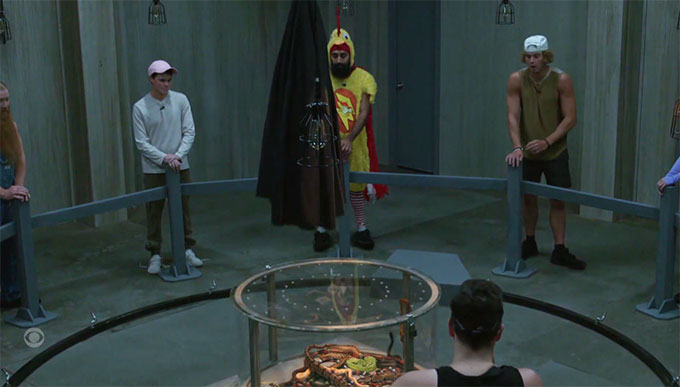 Back to the Pressure Cooker. It's gotten cold in there so Izzy is dancing around, trying to stay warm when she lifts her hand off her button at the 3:55 mark. She gets the third card, which reads "Concert." It unleashes loud music on a loop. But Cirie, Jard and Izzy get to leave the Pressure Cooker and the remaining players have to endure the concert.
After 8 hours and 35 minutes, Bowie Jane is out and wins an actual pressure cooker.  A little over an hour later, Matt is out. His card unleashes flies inside the Pressure Cooker. At the 10:08 mark, Red falters and wins a home theater and a year's subscription of Paramount Plus.
Bowie, Matt and Red get to leave the Pressure Cooker.
Cory is next out after 12 hours and 16 minutes, and his card reveals that he is a have not. He has to pick two more HGs. Blue follows after 12 hours and 44 mins. She gets a $1,000 prize. Jag follows at the 12:50 mark. He picks the "perfume" card. The smell of sewage is unleashed on the remaining three houseguests as Cory, Blue and Jag get to leave.
That means Mecole, America and Cameron remain. Mecole lets go after 13 hours and 30 minutes. She wins a dinner party for herself and three other houseguests.
So it's between Cameron and America. And as Mecole leaves to go to the bathroom, the final two get to talk. Cameron tells her that if he wins this week, she stays clean. "You would get really, really dirty" this week, he tells her. He says he would happily be the one to get dirty this week. He also tells her she would be 200 percent safe. America also asks if Cory could be safe. Cameron says yes.
So with the deal in place, America lets go after 13 hours and 49 minutes. Cameron is the new Head of Household. And BB25 is just shy of beating the competition length record set by Big Brother 6.
Cameron right away lets it be known that his targets will be Jag and Blue. But Izzy is clearly not acting not too happy that Cameron won and that actually puts her on Cameron and Red's radar. Cameron and Red discuss whether or not Izzy should be the target this week.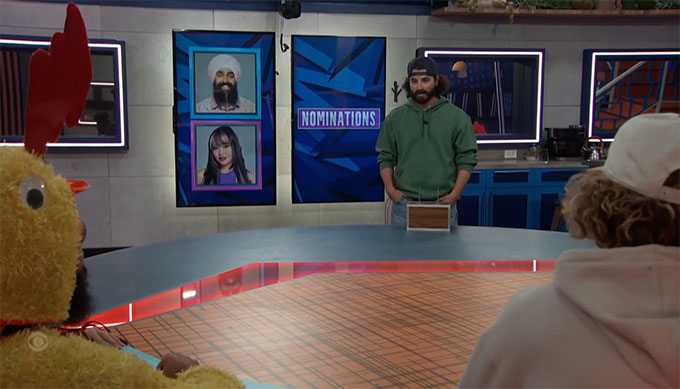 But Izzy can wait, Cameron decides. He lets Jag know that he's going to be his target and Blue is going to be right next to him. So at the nomination ceremony, that's what happens. It's Jag vs. Blue on the block ahead of the Power of Veto competition (check out those results if you don't want to wait until Wednesday night).