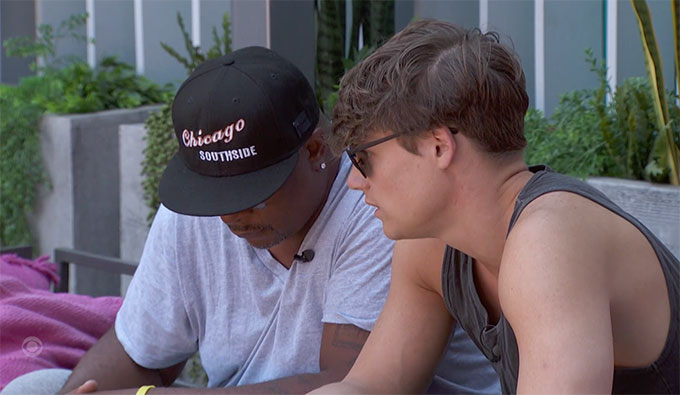 The Leftovers alliance has been showing some cracks the past few weeks, mostly because of Kyle, and as we saw on Sunday's episode of Big Brother 24, he finally shattered it.
Kyle was feeling the pressure of possibly facing the block along with Alyssa (even though she was never going on the block), so he told Alyssa and Terrance every single detail about The Leftovers. Only this time, he didn't take credit for forming it like he has all season. The plan kept him off the block; Terrance nominated Joseph and Turner, with Joseph as the target.
Before we go any further, let me just say that this wasn't Terrance's move, exactly. This was all Kyle. Terrance was planning on targeting Joseph, but was planning to keep his word to Turner and nominate Joseph and Kyle. With that nomination pair, there was still a chance that Turner could use veto and save Joseph. So Kyle ratting out his alliance really only prevented that from happening. And with how the veto competition played out, and Terrance winning it, then that didn't even matter in the end.
So Kyle's move kept him off the block this week. He was probably not going home anyway. So now he will have to face Monte, Taylor, Michael and Brittany. He thinks that he, Alyssa and Terrance can go right inside and team up with Michael and Brittany, and all will be fine. But Michael and Brittany will only be OK with this new plan if Monte, Taylor or Turner don't win the next Head of Household completion. So it seems to me that Kyle's move this week makes his future risks much greater than the one he was facing this week.
The last time we saw the outside Live Feeds, Turner and Joseph didn't seem to realize that Kyle sold them out, and they can no longer trust him. I don't see how that wasn't obvious, and maybe they do know now, but I can't imagine it not coming out. Kyle wants Alyssa and Terrance to blame it all on Joseph, but I don't think the inside Leftovers will buy that.
I think Kyle could really be in trouble, and I think the fans watching will be pretty happy to see that happen. I've been checking Twitter and Facebook, and it seems a lot of fans on both platforms are on the same page when it comes to Kyle. The majority of people agree that Kyle made a bold move, but one that only covered him this week and leaves him exposed next week and beyond.
Others are saying that Kyle outplayed Joseph and Turner this week. While that may be true, THIS WEEK are the key words. You usually can't play this game week-by-week very successfully. Unless you have a lot of luck come into play. You have to think ahead and make plans. And Kyle didn't do that very well this week.
I'm not sure Kyle will be able to repair the damages he's made, but then again Michael and Brittany seem to be willing to ride with Kyle if it comes down to it, but we'll see how they react when they learn out the outside game played out.
What do you think about Kyle selling out the Leftovers? Was it a good move? Will it pay off for him in the long run?