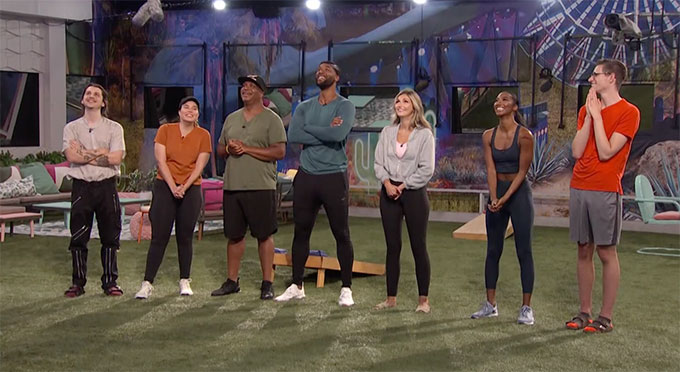 After this week's double eviction, we will be down to the Big Brother 24 Final 5. That means that the finale is fast approaching. So who has the best path to get to the end? Right at this very moment it's hard to say, and still a littler early, but let's take a look at each person and where they stand at the moment.
Michael
It was starting to look like if Michael wanted a spot in those Final 2 chairs, he'd have to win every competition he was eligible to play in from here on out. But just last night and today, some new doors started opening up for Michael. Brittany made a pretty serious blunder by talking to Turner about making a Final 2. She also spent some overtime working against Taylor, and it seems like the target has now shifted to Taylor. Turner and Monte decide that maybe if you can't beat Michael, you join him. So they go to Michael with this information that Brittany is starting to see she doesn't want to go to the end with Michael. They also throw in the fact that Taylor has said that a shot should be taken at Michael if any of them want to get to the end.
So now there's a new guy's thing in the works with Turner, Monte and Michael. Turner and Monte seem pretty serious about it, because they think it's a more certain way they can get to the end (by hitching a ride on Michael's coattails it seems). This will likely only be one-week deal for Michael, but he really needed it with him not being able to play HOH in the double eviction. Could Turner and Monte be clearing the path for Michael? Time will tell.
Taylor
It was really starting to look good for Taylor, but Brittany seems to be in some weird panic mode and spent a lot of time throwing Taylor under the bus this week. And apparently her BB Comic has made it look like she's after the guys, so could production have sabotaged Taylor's path a bit? We will have to save our judgment until we actually see her BB Comic on Wednesday's episode. But as of this moment today, Taylor could be in danger come Thursday night.
If Taylor does win HOH and takes a shot at Michael or one of the other guys, then her path opens up a bit wider. She'll have to do some more work and win a few more competitions, but she could still get there and have a good shot at winning. She definitely has the best overall arch and story to tell in the end. She just has to get past that double eviction.
Brittany
I think Brittany has a pretty clear path to the end because Michael knows he can keep dragging her and beat her. And no one will be worried about losing next to Brittany in the end. So I think it's still quite possible she can get there. Unless Michael does decide to ride with the guys a few rounds and lets them take her out for him. I do think he's starting to realize that Brittany is a liability, though. But I think Michael has thought it all out pretty well, and knows his best shot is winning against Brittany.
Monte
I think Monte would have to win as much as Michael at this point to get to the end. If he takes Michael out, then he's the main target. But then working with Michael will likely only get him to third. Michael would likely never take Monte to the Final 2. So I think if Turner, Monte or even Taylor take a shot at Michael in the double eviction, then Monte's path opens a bit more. But as of now, I'm not sure he can get all the way to the end.
Turner
I think Turner has found himself a way to make it past a couple more rounds. But it's hard to see him getting to the end with how all over the place his game has been in the past couple of weeks. He keeps jumping from one thing to another, and pretty soon that's going to catch up to him. But I do think Turner might have a better shot at getting to the finale than Monte does. Turner is better at competitions than Monte, and I think he's also better at manipulating the other players and their emotions.
Alyssa
For a minute, I was worried Alyssa was going to get dragged to the end, but now everyone is starting to agree that she could be an actual threat with the jury, meaning she's done nothing to make anyone too angry, has no blood on her hands, and has good relationships with the jury members. So taking her to the end could be a huge risk. She could even beat Michael at this point if Terrance heads off to jury this week and gets to work on throwing Michael under the bus.
So I think Alyssa goes out soon, maybe even this week if Turner and Monte are able to convince Michael. But I don't see that happening. Michael needs Terrance to go.
Terrance
As I just said, I think Terrance is going home this week. So he has no path to the finale. And if he does happen to survive this week, he's not going to make it much farther. He has shown how untrustworthy he is in the game. Only Alyssa would want him around at this point. I think.
Of course there's still a lot of Big Brother to be played, and this cast as flip flopped more than any in recent memory. So a lot can change. But what do you think? Who has the most clear path to the Big Brother 24 finale?