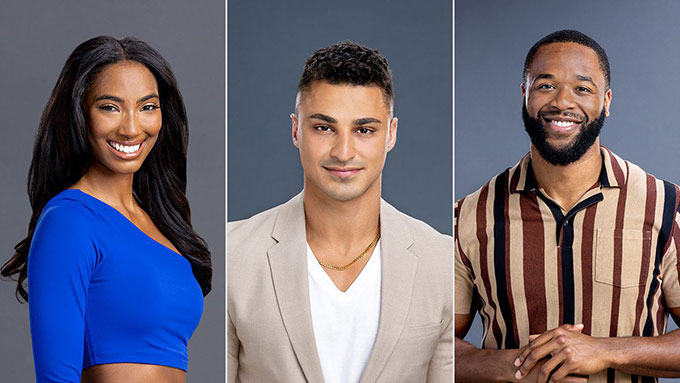 The CBS soap opera The Bold and The Beautiful has once again tapped Big Brother alumni to appear on the daytime show. From Big Brother 24, they're chosen winner Taylor Hale, runner-up Monte Taylor, and Joseph Abdin.
Soap operas are no strangers to love triangles, so the irony of this casting isn't lost on us here. There's no word on what kind of roles the three will be playing, but they're typically minor, walk-on-type roles.
The official Instagram of The Bold and The Beautiful shared the news this week as Taylor, Joseph and Monte were at the CBS studios filming their scenes. Taylor teased their latest gig.
"You will not believe where we are," Taylor said at the start of the video. "We're at 'BB'! Not 'Big Brother' … 'The Bold and the Beautiful,' and we're so excited to be here filming a really awesome episode to show you all. We can't tell you when it's airing, but stay tuned. You'll see pretty soon."
The Bold and The Beautiful welcomes houseguests onto the show after nearly every season now, and most of us were expecting Taylor, as the winner and fan favorite, to make an appearance. Even Bold and the Beautiful actress Krista Allen (who plays a character named Taylor, by the way) seemed to think it would be Taylor based on a Tweet following Taylor's historic BB24 win.
"Congratulations to Taylor MF Hale!" Krista Tweeted. "Against all odds she did it and the first black female winner of Big Brother and AFP!
This is such a sweet victory. #TeamTaylor is my favorite Team. Really hope I get to meet you. (Hint hint)."
Past BB houseguests to make post-season appearances on The Bold and the Beautiful have included Drew Daniel, Will Kirby, Kaysar Ridha, Jeff Schroeder, Jordan Lloyd, Rachel Reilly, Zach Rance, Donny Thompson, Da'Vonne Rogers, Xavier Prather and Jessica Milagros. Check out a photo gallery of some of the appearances below.
Big Brother Stars On The Bold And The Beautiful