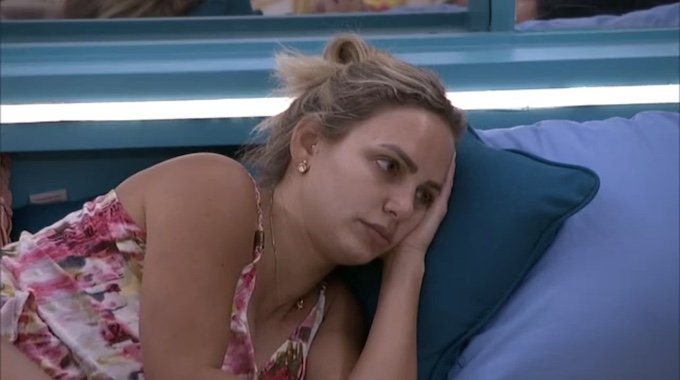 It is Week 6 of Big Brother 24 and now that Daniel is out of the house, it's time to pick a new target. Last night we saw the classic wall competition for the new Head of Household play out on the Big Brother live feeds and afterward, the HOH started to plan out their nominees. Read on to find out the plans for the Week 6 Nomination Ceremony on BB24 here!
As we all know, Taylor was the last person standing on the wall last night earning her spot as this week's Head of Household. She has quite a few options regarding her nominations this week. The first option she talked about was nominating Terrance with a pawn from within the Leftover alliance. That pawn was going to be Turner since Taylor didn't want to put an unnecessary target on Michael, Monte, Joseph, or Kyle's back for the other side of the house to aim at. However, Turner brought up the scenario where Terrance wins the Veto and asks what she would do there. She hadn't really thought that far ahead though.
Then she talked about possibly putting Turner and Monte up in hopes that one of them wins the Veto and then they can backdoor Terrance. However, Turner again brought up what she would do if someone from the other side of the house won and chose not to use it. She, Brittany, Turner, and Monte all agreed that with the Festie Bestie twist gone, the game was going to be a little more difficult to navigate without their insolation.
The only reason she didn't mention Indy, Alyssa, or Jasmine in her plans was that she had made a promise to them that she wouldn't put them up. A promise that she later regretted but realized that she might have to go back on it. Turner brought up the idea of putting Indy and Alyssa on the block which would cause them to have to campaign against each other and essentially implode, making it easier to target them later. Monte also brought up the point that if she nominated two people outside of their alliance, one of them wins the Veto, she can still nominate another from that other side. Regardless they would lessen their numbers going into next week.
Brittany also brought up that she has seen some of the girls be nice to Taylor's face and then behind her back be cruel. Monte says that he has also seen how they have been acting towards her and Monte (because they suspect they are working together). After the conversation, Taylor seemed to be leaning toward putting Indy and Terrance on the block at today's Nomination Ceremony. It seems like Terrance is the target this week, I feel like that target could shift a bit depending on how the girls react to one of their own being on the block.
Make sure you come back a little later on for confirmation! In the meantime, if you were Taylor, who would you nominate this week? Who would be your target?
Download our Big Brother App, join us on Facebook & Twitter, and get our Email Updates for more!