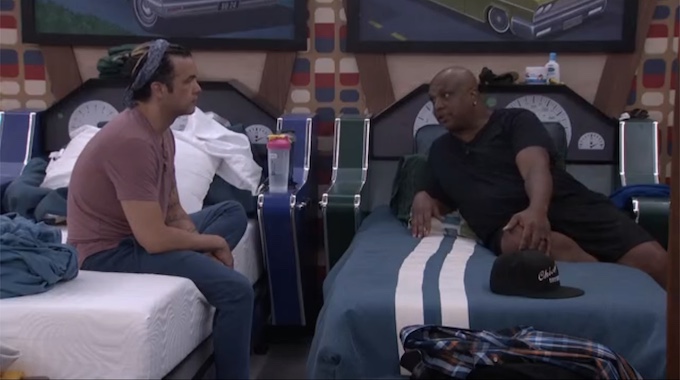 It is Nomination Day inside the Big Brother 24 house and this week's Head of Household has a pretty solid plan going into this week. Which Big Brother houseguests could see the block and which will be kept off? Read on to find out what this week's Head of Household has planned going into Week 5 of BB24!
By now we all know that Michael won this week's Head of Household competition, meaning that he and Brittany are both safe this week and will be playing in tomorrow's Power of Veto Competition. Michael has vowed that Taylor will not see the block this week since she has already been on it three out of four weeks. That means that Indy and Alyssa will also be safe from the block this week since Taylor joined their Festie Bestie group last night.
Michael doesn't have many other nomination options since his overall plan is to backdoor Daniel this week, eliminating the option of putting Kyle and Daniel up at today's ceremony. Michael's plan to backdoor Daniel obviously stems from Daniel's explosive attitude since finding out that Nicole was the one being evicted at last night's eviction. That leaves Michael with Turner and Jasmine or the trio made up of Monte, Joseph, and Terrance as initial noms. Turner made it clear that he is a team player and told Michael that he would go on the block as an initial nom if need be.
However, Michael is worried that Jasmine's bum ankle might prevent Turner from being able to play in this week's Power of Veto. If Kyle and Daniel are then picked to play, that would leave Brittany and Michael alone against Daniel and Kyle. This is not a scenario that Michael feels comfortable with going into the Veto Competition, so that leaves only one option.
Michael is looking at nominating Monte, Joseph, and Terrance at today's Nomination Ceremony which will set him up to backdoor Daniel.
Stay tuned for the Nomination Ceremony spoilers coming up later today for confirmation! Do you think that this is the best option for Michael's game?
Download our Big Brother App, join us on Facebook & Twitter, and get our Email Updates for more!